RHM's 2018 Reading Course Book for February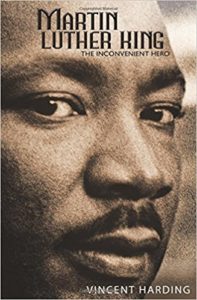 Martin Luther King: The Inconvenient Hero
by Vincent Harding
In this collection of essays, noted scholar and activist Vincent Harding reflects on the forgotten legacy of Martin Luther King, and the meaning of his life today.
February is Black History Month.  This month, Renewed Heart Ministries will be participating in our local Race Matters event here in Lewisburg.  We feel this book is timely and appropriate.
Vincent Harding, who spent some time as a Seventh-day Adventist before becoming a Mennonite for the majority of the rest of his life, is the composer of King's speech Beyond Vietnam.  
From the Back Cover:
"In these eloquent essays, the noted scholar and activist Vincent Harding reflects on the forgotten legacy of Martin Luther King, Jr., and the meaning of his life today. Many of these reflections are inspired by the ambiguous message surrounding the official celebration of King's birthday. Harding sees a tendency to freeze an image of King from the period of his early leadership of the Civil Rights movement, the period culminating with his famous "I Have a Dream Speech". Harding writes passionately of King's later years, when his message and witness became more radical and challenging to the status quo at every level. In those final years before his assassination King took up the struggle against racism in the urban ghettos of the North; he became an eloquent critic of the Vietnam war; he laid the foundations for the Poor People's Campaign. This widening of his message and his tactics entailed controversy even within his own movement. But they point to a consistent expansion of his critique of American injustice and his solidarity with the oppressed. It was this spirit that brought him to Memphis in 1968 to lend his support to striking sanitation workers. It was there that he paid the final price for his prophetic witness."
It's our hope that you will be inspired by this book to take action in your own way as we continue to participate together in the work of "good news to the poor, freedom for the prisoners, and liberation for the oppressed." (Luke 4.18-19)