RHM's 2018 Annual Reading Course Book for September
A Theology of Liberation
by Gustavo Gutierrez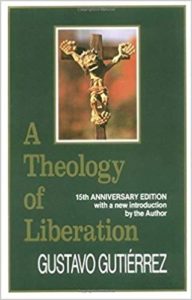 Few books have had the same impact on the theological landscape as Gutierrez' classic work A Theology of Liberation.  This is one of our favorites here at RHM and it is with great joy that we add this book to 2018's Annual Reading course for September!
"This is the credo and seminal text of the movement which was later characterized as liberation theology. The book burst upon the scene in the early seventies, and was swiftly acknowledged as a pioneering and prophetic approach to theology which famously made an option for the poor, placing the exploited, the alienated, and the economically wretched at the center of a program where 'the oppressed and maimed and blind and lame' were prioritized at the expense of those who either maintained the status quo or who abused the structures of power for their own ends. This powerful, compassionate and radical book attracted criticism for daring to mix politics and religion in so explicit a manner, but was also welcomed by those who had the capacity to see that its agenda was nothing more nor less than to give 'good news to the poor', and redeem God's people from bondage."
---
*You don't have to order this book through amazon.com, but if you do, please consider using Amazon Smile (smile.amazong.com) and selecting Renewed Heart Ministries as your charity for a portion of your purchase being donated to RHM at no additional cost to you.