RHM's 2018 Annual Reading Course Book for December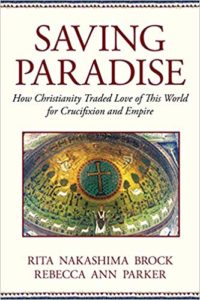 Saving Paradise: How Christianity Traded Love of This World for Crucifixion and Empire
by Rita Nakashima Brock & Rev. Dr. Rebecca Parker
As we enter the holiday season, I can't think of a more perfect book to finish up our reading course for 2018.
"Saving Paradise: How Christianity Traded Love of This World for Crucifixion and Empire restores the idea of Paradise to its rightful place at the center of Christian thought. Rita Nakashima Brock and Rebecca Ann Parker offer a fascinating new lens on the history of Christianity, from its first centuries to the present day, asking how its early vision of beauty evolved into a vision of torture, and what changes in society and theology marked that evolution.
"Brock and Parker urge readers to see church history in a new light, with an eye toward social justice. By re-emphasizing early Christian's focus on paradise, on the kingdom of God on Earth, the authors are convinced they are reclaiming authentic 'traditional' Christianity. It's a controversial thesis, deserving of debate and study."
-Douglas Todd, Religion News Services
"Only rarely is a single book an event. This book is such a rarity."
-Daniel C. Maguire, author of A Moral Creed for All Christians
"Every Christian theologian and preacher should read this book and be profoundly challenged."
-James H. Cone, author of Martin & Malcolm & America
*You don't have to order this book through amazon.com, but if you do, please consider using Amazon Smile (smile.amazon.com) and selecting Renewed Heart Ministries as your designated charity for a portion of your purchase to be donated to RHM at no additional cost to you.