RHM's 2017 Annual Reading Course Book for February
Jesus and Nonviolence: A Third Way (Facets)
by Walter Wink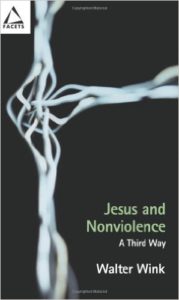 It is with great pleasure that we add this volume to our 2017 reading list here at RHM.
"More than ever, Walter Wink believes, the Christian tradition of nonviolence is needed as an alternative to the dominant and death-dealing 'powers' of our consumerist culture and fractured world. In this small book Wink offers a precis of his whole thinking about this issue, including the relation of Jesus and his message to politics and nonviolence, the history of nonviolent efforts, and how nonviolence can win the day when others don't hesitate to resort to violence or terror to achieve their aims."
If you purchase this volume through Amazon, please remember to use Amazon Smile and select Renewed Heart Ministries as your charity to support our work at no additional cost to yourself.
Happy reading!