RHM's 2017 Annual Reading Course Book for April
Bible, Gender, Sexuality: Reframing the Church's Debate on Same-Sex Relationships
by James V. Brownson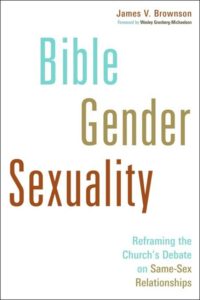 "Grapples conscientiously with biblical texts at the heart of the church's debate over same-sex relationships.
This thought-provoking book by James Brownson develops a broad, cross-cultural sexual ethic from Scripture, locates current debates over homosexuality in that wider context, and explores why the Bible speaks the way it does about same-sex relationships.
Fairly presenting both sides in this polarized debate — "traditional" and "revisionist" — Brownson conscientiously analyzes all of the pertinent biblical texts and helpfully identifies "stuck points" in the ongoing debate. In the process, he explores key concepts that inform our understanding of the biblical texts, including patriarchy, complementarity, purity and impurity, honor and shame. Central to his argument is the need to uncover the moral logic behind the text.
Written in order to serve and inform the ongoing debate in many denominations over the questions of homosexuality, Brownson's in-depth study will prove a useful resource for Christians who want to form a considered opinion on this important issue."
Remember, if you use Amazon.com, please consider using Amazon Smile and selecting Renewed Heart Ministries as your charity to support our work at no additional cost to yourself.
You can do so at: http://smile.amazon.com/ch/20-8663541