RHM's 2016 Annual Reading Course Book for September
Laying Down the Sword: Why We Can't Ignore the Bible's Violent Verses
by Philip Jenkins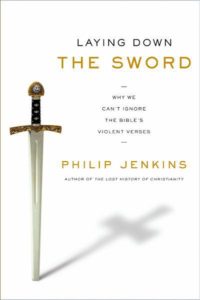 "Philip Jenkins delivers a fearless examination of the darkand violent verses of the Bible—and a call for us to read them anew in pursuitof a richer, more honest faith. From "one of America's best scholars ofreligion" (The Economist), this daring exploration of the Scripture's most difficult passages forces us to confront and accept the violence that was as integral to the formulation of Christianity's message as it was for many other of the world's religions, and shows us how a full understanding of theScripture will allow us to finally move towards a more peaceful, spiritual world. Readers of Bart Ehrman's God's Problem, John Selby Spong's The Sins of Scripture, and Jenkins's own The Jesus Wars, as well as every Christian eager to square the recurrent violence of the Scripture with Christianity's enduring message of peace, will find these difficult questions explored in full in Laying Down the Sword."
Reviews:
"A provocative and timely comparison of the legacies of violence in Christianity, Judaism, and Islam. With verve and sweeping insight, Jenkins challenges all of our stereotypical assumptions about religion, bloodshed, and terror." (Thomas S. Kidd, author of God of Liberty: A Religious History of the American Revolution)
"This book is a wonderful example of the kind of rigorous work Christians must do if they are to retain intellectual credibility." (Patrick Allitt, The American Conservative)
"Jenkins has outdone himself. This is by far the best piece of work he has ever done, dealing with one of the most controversial issues Christians struggle with day-in and day-out." (Tony Campolo)
From the Back Cover:
A New Vision for Understanding Bloodshed in the Bible
Laying Down the Sword brings to light biblical texts that have been hidden from view and overturns popular stereotypes that continue to generate more heat than light. Jenkins offers a way to read these troubling passages, presents a vital framework for understanding the Bible, and calls believers in every tradition to create a more honest and deeper-rooted faith.
Please remember, if you use Amazon to use Amazon Smile and choose Renewed Heart Ministries as your charity to support our work at no additional cost to yourself.
Happy Reading!
https://smile.amazon.com/Laying-Down-Sword-Ignore-Violent/dp/0061990728/ref=tmm_pap_swatch_0?_encoding=UTF8&qid=1471961176&sr=8-1-fkmr0