RHM's 2016 Annual Reading Course Book for July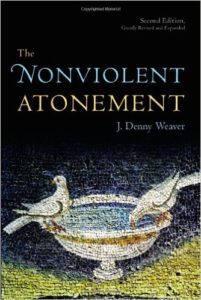 July's book of the month for our annual reading course is The Nonviolent Atonement, Second Edition by J. Denny Weaver.
I have met Denny.  I spent a morning, a few years back now, just Denny and myself, in a coffee shop in Madison, WI.  His work in helping his own tradition (Mennonite) hold on to their peace teachings and their ethic of nonviolence and conflict resolution is immensely valuable. In this volume he applies that same effort to understanding the death and resurrection of Jesus within the context of that nonviolence.
In this book Denny also dialogues with Black, Feminist, Womanist theologians as well as the defenders of a theory of atonement whose adherents too often see wrongs as something to be violently punished rather than corrected and righted.
This book came at a pivotal time for me in my own understanding of nonviolence.  It is with great pleasure that we add it to our 2016 line up.
"A provocative study that cuts to the very heart of Christian thought, The Nonviolent Atonement challenges the traditional, Anselmian understanding of atonement ― along with the assumption that heavenly justice depends on Christ's passive, innocent submission to violent death at the hands of a cruel God. Instead J. Denny Weaver offers a thoroughly nonviolent paradigm for understanding atonement, grounded in the New Testament and sensitive to the concerns of pacifist, black, feminist, and womanist theology. While many scholars have engaged the subject of violence in atonement theology, Weaver's Nonviolent Atonement is the only book that offers a radically new theory rather than simply refurbishing existing theories. Key features of this revised and updated second edition include new material on Paul and Anselm, expanded discussion on the development of violence in theology, interaction with recent scholarship on atonement, and response to criticisms of Weaver's original work.
Praise for the first edition:
"The best current single volume on reconstructing the theology of atonement." ― S. Mark Heim in Anglican Theological Review
"Weaver provides an important contribution to atonement theories by seriously inserting the contemporary concerns of pacifist, feminist, womanist, and black theologians into the centuries-old christological conversation. . . . A provocative but faithful proposal benefiting any student of christology." ― Religious Studies Review
"A noteworthy contribution to the literature on the atonement. Weaver provides a useful critique of the history of atonement motifs; he does a fine job of placing Anselm's theology in its historical context; he creatively fuses a singular biblical vision from the earthly narrative of the Gospels and the cosmic perspective of the Apocalypse; and he attempts to relate discussions of the atonement to Christian social ethics." ― Trinity Journal
"This is a superb succinct survey and analysis of classical and contemporary theories of the atonement, ideal for students and general readers. . . . A clearly written, passionately expressed introduction to current debates on the atonement. . . . Excellent resource." ― Reviews in Religion and Theology
If you use Amazon, please consider supporting the work of Renewed Heart Ministries through Amazon Smile and selecting Renewed Heart Ministries as your Charity at no additional cost to you.