RHM's 2016 Annual Reading Course Book for December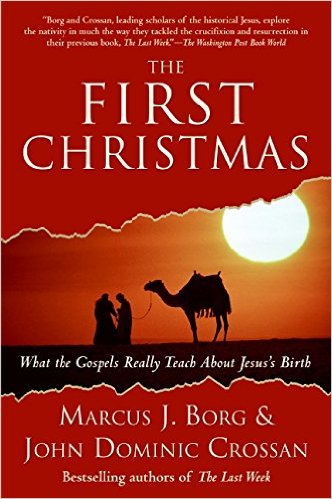 The First Christmas: What the Gospels Really Teach About Jesus's Birth 
by Marcus J. Borg and John Dominic Crossan
"Who could argue with the message the authors draw from the Bible's Christmas stories? Light in the darkest time of the year, hope in a period of creeping despair—these are powerful and universal themes that can give everyone a stake in Christmas."—USA Today
In The First Christmas Marcus J. Borg and John Dominic Crossan—top Jesus scholars and authors of The Last Week—help us see the real Christmas story buried in the familiar Bible accounts. Basing their interpretations on the two nativity narratives in the Gospels of Matthew and Luke, Borg and Crossan focus on the literal story—the inner truth rather than the historical facts—to offer a clear and uplifting message of hope and peace. With The First Christmas readers get a fresh, deep, and new understanding of the nativity story, enabling us to better appreciate the powerful message of the Gospels.
"With meticulous scholarship and accessible language, "The first Christmas"… uncover(s) the genuine meaning of…the Birth of Jesus."
From the Back Cover:
In The First Christmas, two of today's top Jesus scholars, Marcus J. Borg and John Dominic Crossan, join forces to show how history has biased our reading of the nativity story as it appears in the gospels of Matthew and Luke. As they did for Easter in their previous book, The Last Week, here they explore the beginning of the life of Christ, peeling away the sentimentalism that has built up over the last two thousand years around this most well known of all stories to reveal the truth of what the gospels actually say. Borg and Crossan help us to see this well-known narrative afresh by answering the question, "What do these stories mean?" in the context of both the first century and the twenty-first century. They successfully show that the Christmas story, read in its original context, is far richer and more challenging than people imagine.
https://smile.amazon.com/First-Christmas-Gospels-Really-Jesuss-ebook/dp/B000WPXTJ2/ref=tmm_kin_swatch_0?_encoding=UTF8&qid=1480534320&sr=8-2
Remember, if you use Amazon.com to purchase this month's book, please consider doing so through Amazon Smile and selecting Renewed Heart Ministries as your charity to support our work at no additional cost to yourself.