RHM's 2016 Annual Reading Course Book for August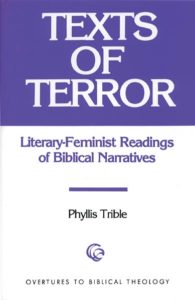 It is with great pleasure that we announce that August's book of the month for our annual reading course is Phyllis Trible's Texts of Terror: Literary-Feminist Readings of Biblical Narratives. 
"Professor Trible focuses on four variations upon the theme of terror in the Bible. By combining the discipline of literary criticism with the hermeneutics of feminism, she reinterprets the tragic stories of four women in ancient Israel: Hagar, Tamar, an unnamed concubine, and the daughter of Jephthah. In highlighting the silence, absence, and oppostition of God, as well as human cruelty, Trible shows how these neglected stories-interpreted in memoriam-challenge both the misogyny found in Scripture and its use in church, synagogue, and academy."
Phyllis Trible is Baldwin Professor Emerita of Sacred Literature at Union Theological Seminary in New York City.
Remember if you use Amazon to use Amazon Smile and select Renewed Heart Ministries as your charity to support our ongoing work.
Happy reading!