RHM Participates in Hurricane Relief in Puerto Rico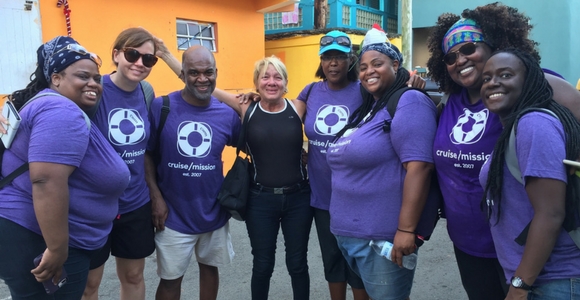 by Herb Montgomery | January 16, 2018
Early last year I was contacted by an organization named Cruise with a Mission asking if I would be willing to be their guest speaker for a mission cruise happening in December. "Mission cruise," I asked, "What's that?"  In short, it's a service project in a certain region that needs help where the mode of transportation to get there is by cruise ship.  I'd never heard of such a thing.
At first I had some reservation.  "A cruise ship?" I thought.  Both my racial and economic justice consciousness was activated.  Cruises are notorious for both their racial and economic exploitation.  So I called a couple people who sit on Renewed Heart Ministries' advisory council to get their advice.  The ones a chose to contact where those whose social location specifically could speak to this out of their own experience.
After much consideration, we decided that since I was being asked to be their guest and to go and share the perspectives we teach here at RHM, this could turn out to be a positive opportunity to speak into lives who are open to listening.  So I went.
We were to visit three islands in the Caribbean: Grand Turk, Puerto Rico and St. Thomas. Little did any of us know when we were planning this trip that devastating hurricanes would rip through this area in 2017 and that these places would be in desperate need of help.
The trip comprised three days at sea and three days in various ports where we participated along side both hurricane relief and recovery work taking place there.  The day that moved me most, though, was the day we spent in Puerto Rico.  The area we chose to work in was La Perla in San Juan. Tourists are typically advised to avoid La Perla as it is one of San Juan's and possibly even the entire island of Puerto Rico's most dangerous places. "The Pearl" district in Old San Juan is referred to as the "slums."
"La Perla is a historical shanty town astride the northern historic city wall of Old San Juan . . .  established in the late 19th century. Initially, the area was the site of a slaughterhouse because the law required them and homes of former slaves and homeless non-white servants – as well as cemeteries – to be established away from the main community center; in this case, outside the city walls. Sometime after, some of the farmers and workers started living around the slaughterhouse and shortly established their houses there. Only three access points exist, one through the 'Santa Maria Magdalena Cemetery', one on the east side and one through a walkway right in the center of the northern wall."  (La Perla, San Juan, Puerto Rico. 2017, December 14. In Wikipedia, The Free Encyclopedia. Retrieved 15:27, January 10, 2018, from https://en.wikipedia.org/w/index.php?title=La_Perla,_San_Juan,_Puerto_Rico&oldid=815454674)
We entered La Perla through the entrance in the center of the northern wall.
Hurricane relief was not allowed to enter this area, primarily because capitalist investors want the inhabitants to give up and move out so that this area can be taken over to build high-rises and resorts on.
This is the area we chose to help assist.
We split into three teams and put three roofs back on three houses, cleaned up flood damage and hurricane debris and got three families back into their homes. It was an amazing experience for everyone involved. At the end of the day there were tears shed and hearts were full.
Here are a few pictures. (See below.)  The last is a group picture with the dear woman whom the team I was part of worked to repair her home.
Each evening when we got back on the boat, I shared a presentation with the entire group on Jesus' Kingdom and specifically his preferential option for the poor, vulnerable, and marginalized; those this world places as last that in Jesus vision for structuring human community would be made first.
It was a week I will always remember.  I'm so glad I went.  I still have not reconciled myself with the exploitation many of the crew, especially the service section who are almost exclusively hired from economically oppressed countries.  But I also do not want to be reconciled to that, either.  As King rightly stated, "There are certain things in our nation and in the world which I am proud to be maladjusted and which I hope all men of good‐will will be maladjusted until the good societies realize. I say very honestly that I never intend to become adjusted to segregation and discrimination. I never intend to become adjusted to religious bigotry. I never intend to adjust myself to economic conditions that will take necessities from the many to give luxuries to the few." (Dr. Martin Luther King; speech at Western Michigan University; December 18th, 1963.)
But despite my opposition to our means of transportation, on the islands we visited, much good was done.  Just like most things in life, this engagement was complex and complicated for me depending on which way I consider it.  And that's okay. Life isn't simple. Nor is it black and white. We do the best we can in the situations we find ourselves.  And I'll never forget my day in LaPerla.
To each of you who support our work here at Renewed Heart Ministries, thank you! We could not exist with your partnership. Together we are making a difference, participating in the work of survival, resistance, liberation, reparation and transformation in the spirit of Luke 4.18-19.  This is the very concrete and world-shaping work the gospels call us to engage.
If you'd like to support Renewed Heart Ministries you can do so by going to RenewedHeartMinistries.com and clicking the donate tab at the top right.
Or you can mail contributions to:
Renewed Heart Ministries
P.O. Box 1211
Lewisburg, WV 24901
Also be sure to sign up for our free resources.
Remember, everything we do here at Renewed Heart Ministries is for free and every amount of support helps. Anything we receive over and above our annual budget we happily pass on to other not-for-profits who we have vetted who are making personal, systemic and structural differences in the lives of people who are also less privileged.
Till the only world that remains is a world where only love reigns.
Thank you!