Open, mutual sharing in Kapolei, HI by Herb Montgomery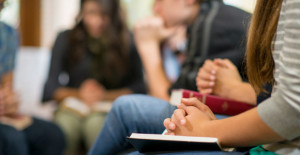 August 8–9 & 15–16, 2014
I've just returned from spending two weekends with the HeartGroup in Kapolei, and I can't possibly put into words how overjoyed I was to see what is taking place.  I've watched this HeartGroup for two years now from a distance. I've seen it go through hard times as those in the group have faced life's challenges, and I have witnessed others come around and support them.  I've watched them celebrate together as the group's members experience life's successes.  They've laughed together; they've cried together.  In short, this group has captured what, I believe, it genuinely means to do life together.
The first weekend that I spent with this HeartGroup during this visit was a time of mutual, open sharing as each member went around and shared with the others what Jesus was teaching him or her—showing them, leading them through.  Then they did a unique thing called "Blessings," where they each take turns sharing with each other how Jesus is blessing each of them presently.
What I witnessed was really encouraging.  For those of you who may not be familiar with what a HeartGroup is, you can find out here:
http://www.rhmheartgroups.com/
In short, sermons were not a central part of the early church's worship, which was centered around eating the Lord's s upper together, combined with open, mutual sharing with one another; rather than the passive spectatorship we witness by most in today's worship services.  In Paul's letter to the Corinth church, he writes, "What should be done then, my friends? When you come together, each one has a hymn, a lesson, a revelation, a tongue, or an interpretation. Let all things be done for building up" (1 Corinthians, 14.26).  One of the central purposes of HeartGroups is to give a group of today's disciples the opportunity to experience the "each one" of the above statement.  It's an egalitarian community of Jesus followers who practice the mutual submission to one another of the New Testament, rather than in hierarchical authority structures.  They fellowship as brothers and sisters, mutually submitting together to the headship of Christ.
The second weekend that I was privileged to worship with this HeartGroup, I was asked if I would share something with the group.  But since even the teaching in a HeartGroup is not done through a sermon, we all participated in a group activity that took us through the narrative of the Jesus story, with special emphasis on understanding what Jesus meant when he told those in his day to go discover what "I desire mercy, not sacrifice" means.  HeartGroups, especially, can experience unity in two very different ways.  Unity is not the only important thing.   Unity around hatred (or sacrifice) of a common enemy is not the kind of unity found in Jesus' Kingdom, but the kind of tribal unity too often found in the world as it presently is.  The unity a HeartGroup wants to experience is the type of unity that is Kingdom unity found in love for those we used to consider "enemies" (or mercy).
We ended this teaching time once again with "Blessings."
There is something very beautiful and special about a group striving to practice the fifty-plus "one anothers" of the New Testament together.  And the beauty of what this group is experiencing, I found especially amazing.
To all the other HeartGroups out there, please know that you are not alone.  The New Testament community was putting on display what a world changed by the Lord Jesus looks like, and you are following in this revolutionary tradition (1 Corinthians, 11.2; 2 Thessalonians, 2.14; cf. 3.16).
And for all those who were praying for this event, thank you.  Together we are enlarging Christ's Kingdom, one heart and life at a time.
Keep living in love and loving like Jesus.
Let all that you do be done in love (1Corinthians, 16.14).