Only One Day Left!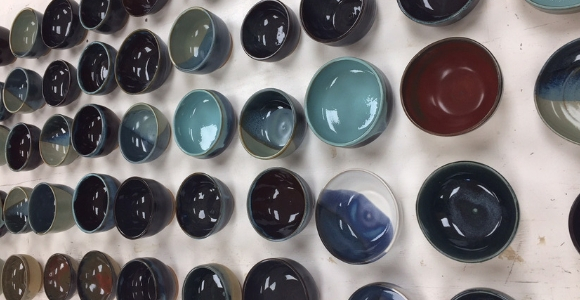 There's only one day left to get your Shared Table Fundraiser pottery bowl. 
If you have not heard about our Shared Table Fundraiser yet this month, you can find out everything about it here.
Crystal and I took some pictures of your bowls fresh out of the kiln. Some of these are for the United Way Fundraiser we are also helping with this year.  I thought I would share some of the pictures with you so you can see what your bowls also look like.
We are about half-way through throwing your bowls for being a monthly, automated contributor to Renewed Heart Ministries.  We'll have a final total on how many bowls we need still to throw after tomorrow.
Thank you so much to all of you who have signed up to support RHM!  We simply could not accomplish our much needed work without you.
Someone deeply impacted by our work wrote:
"I'm so thankful for Renewed Heart Ministries and for the paradigm shift I've been given. I receive your daily quotations and your weekly eSights. I am amazed with the degree of liberation I have experienced through these materials. I have been downloading your podcasts and presentations and passing them on to my family. Thank you so much for opening my eyes, renewing my heart, and moving my feet to action as I more deeply follow a Jesus who is a liberator of the oppressed."
And if you haven't subscribed yet, you still have a little bit of time left. Click on Shared Table Fundraiser for RHM to find out more.
Here's to another year of working to make our world a safe, compassionate, just home for all.
Another world is possible.
With much gratitude and love for each of you,
Thank you!
Herb Montgomery
Director
Renewed Heart Ministries