Only 12 Hours Left
December 31, 2018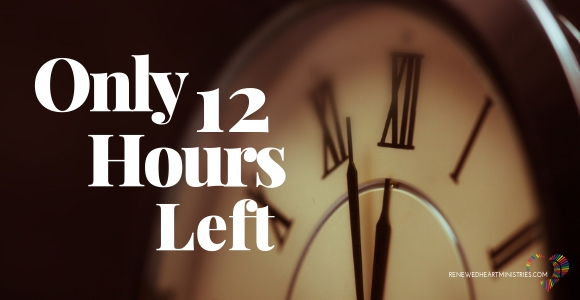 There are only twelve hours left in 2018!
We are about to enter our twelfth year! For over a decade Renewed Heart Ministries has been sharing the message of God's love and inclusion. Four and a half years ago, though, something changed. We were introduced to a precious community of people, who although they are just as much the objects of that Divine love, they daily face marginalization and exclusion. Something inside us shifted by learning to listen. As Emilie Townes so eloquently states in Journey to Liberation, "When you start with an understanding that God loves everyone, justice isn't very far behind."
In 2014, Renewed Heart Ministries transitioned into becoming a "welcoming and affirming" ministry. We have also become more intentional and passionate about the intersection of the teachings of Jesus in the gospels and our work today of love, compassion, action and justice in our larger society. It's been a time of rebirth and rebuilding here at RHM, and we believe we are a much healthier ministry with a much healthier focus as a result.
Yet, these changes have not been without deep loss. 
This past October, in response to the news that we may be facing a potential budget shortfall this year, a very generous supporter of RHM contacted us and pledged to match all donations through November and then through December as well, to help us meet our budget.
The good news is we've almost reached our budget goal for 2018 as a result, yet we're not quite there.  
There are 12 hours left to take advantage of this rare opportunity for RHM. We're asking you to help us avoid a budget shortfall for 2018 and be able to plan for 2019. We have many projects in the works for next year and we would love to see those projects come to fruition. We would love to be able to expand both our online presence, as well as the number of free, teaching seminars we conduct across the nation. An initial edit has also been completed for my upcoming book that will be a sequel to Finding the Father. The title for this new, second book will be Finding Jesus. We would love to see this manuscript be able to go through its final stages and go on to publication this next year.
If you have been blessed by RHM's work in 2018, take a moment as this year ends and support our work.
You can do so by going to our website at renewedheartministries.com and clicking "donate" or you can mail your contribution to:
Renewed Heart Ministries
P.O. Box 1211
Lewisburg, WV 24901
If you would like your donation to be matched just make sure your contribution is postmarked by today (December 31), or your online donation is made by midnight tonight.
Help us continue to grow this ministry in 2019 as we, together, follow Jesus more deeply in the healing work of love, compassion, action and justice for us all, especially the marginalized.
Thank you in advance.
I love each of you dearly.
Happy new year!
We'll see you in 2019.
Herb Montgomery
Director
Renewed Heart Ministries