October 6 is Herb's Birthday!
Herb is turning 40!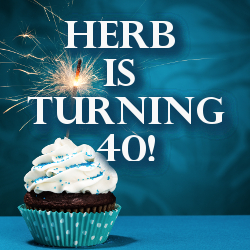 So many have already sent in messages of gratitude and well wishes for Herb's special day.
If you would like to say Happy Birthday to Herb consider making a $1 to $5 donation to support the work of Herb and Renewed Heart Ministries on this momentous occasion!
(Of course you can always give more.)
To do so, please click here where you will be given the option of Credit/Debit, Paypal, or eCheck.
Every donation made to RHM will receive a tax deductible receipt, and as with every gift, thank you for your support. Together we are making a difference, step by step, moving closer to a safer, more compassionate world for us all.