New York Metro Adventist Forum
New York City, NY
December 4, 2015
St. Mary's Episcopal Church, Harlem
Jesus and the Oppressed
by Herb Montgomery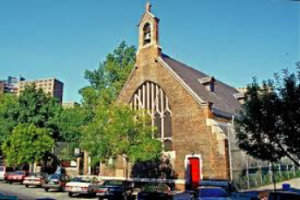 As many of you know, I do not typically travel to do seminars during the month of December.  The holiday season, for me, in the past, has typically been a time dedicated to my family.  This year, for this group, I decided to make an exception.
This past weekend, I had the immense pleasure of presenting two talks for critique and discussion at the New York Metro Adventist Forum regarding Jesus and his teachings on social justice. The title for this event was Jesus and the Oppressed.  The titles for my presentations were From Pyramids to Shared Tables and The Unstoppable Revolution.
Much of the content for these two presentations can be found in the new series The Revolutionary Jesus, available online:
https://renewedheartministries.com/presentation/The-Revolutionary-Jesus
Both presentations were very well received. And I found the discussions after each presentation to be so encouraging.  The comments and questions, I felt, were extremely relevant.  I am referring specifically to the discussions regarding the reality that, over the next two decades, we are going to continue to see a growing focus on the social implications of the sayings and teachings of Jesus within the Jesus stories; the increased relevance of these continue to become more and more understood.  Many people are waking up to the realization that not only is there significant hope for our world within these ethics and values, but also that their rediscovery is the only hope for Christianity if it is to survive, in some form, the next fifty years.
I was deeply honored to be able to share my thoughts with the forum in Harlem.  Many of you expressed to me how much you enjoyed my presentations. Please know that I immensely enjoyed your feedback as well.
We also had a few guests from the surrounding area.  It was such a pleasure to meet you as well.
And, to each of you who continues to support Renewed Heart Ministries, thank you.  This weekend reminded me, once again, of the importance of the nature of the work that we engage in.  We could not do what we do without you.
Till the only world that remains is a world where only love reigns.
Happy Holidays!