New 'Outspoken' Short Documentary Film Series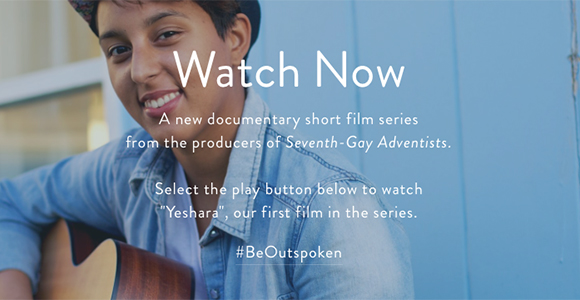 Yeshara
Watchfire films
by Herb Montgomery
It is a rare event when you have the pleasure of being friends with both the producers and the subject of a documentary film.  Both are true for me in this.
Watchfire films (the producers of Seventh-Gay Adventists) has introduced a new documentary short film series with this first inspiring episode.
Daneen Akers (co-producer) writes, "This new 'Outspoken' project is a 10-part (or more) series of short documentary profiles of LGBT Adventists (and some parents) who are living out their faith and who they are in unique and compelling ways. The people featured in this new series are people who inspire us to contribute our verse, to let our light shine. They give us hope and joy, and we know you'll be blessed by their stories and gifts as well. The plan is to release one the first Friday night of the month throughout 2017. We have seven filmed–and one of those seven edited now!–and several more planned to film in the coming months."
This first film is about our dear friend whom we have come to love here at Renewed Heart Ministries.  Her name is Yeshara.  May her heart, her voice, and her story encourage you, also, to #BeOutspoken.  A little insider knowledge, if you will permit me one proud moment. The song Yeshara sings at the end is one of my favorites. It was inspired by a dialogue film in which I had the pleasure of participating (Enough Room at the Table), and because I was going to be speaking in Glendale city on the same topic. She was asked to write a song for the end of my presentations there, and this is the song she wrote. I'm so stoked that it made it into this short film.
Yeshara, if you are reading this, we love you and we are honored to be sitting with you "at the table."
We feel very privileged to be able to help promote this new series.  We'll let you know each month as they become available to view.
You can watch this first one here:
"Yeshara"
#ComeSitNextToMe
#BeOutspoken
#LGBTChristians
#faithfullyLGBT