Narrative Christus Victor for a Naturalistic World View
Roseburg, Oregon
May 14–16, 2015
BY HERB MONTGOMERY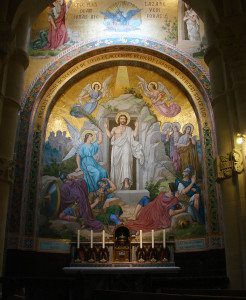 Few topics excite me more than reading the Jesus story through the narrative lens of the Christus Victor theory. Though there are many through which one can look at the Jesus story, this is one of my favorites. That's why I was excited when the church I was going to speak at in Oregon requested this topic themselves.
For those of you who may not be familiar with Christus Victor, or the more recent Narrative Christus Victor, this is an understanding of Jesus' life, teachings, execution, and resurrection as that which liberated humanity from its captivity to domination systems, whether of this world (naturalism) or the cosmos (apocalypticism). ( I explain both of these in the series.)
It's an extremely helpful lens, which enables us to share the gospel of Jesus, within the Jesus narrative, in relevant ways within our post-Christian world today. And I love it! It has answered so many of the questions I grew up with as well concerning God, myself, and everyone else around me.
The church I was fortunate enough to be presenting at was the Turning Point Church in Roseburg, Oregon. First let me say that I absolutely loved the spirit I encountered at this church. It was warm, embracing, and encouraging. Over the course of the weekend, I also noticed the presence of a wide spectrum of periphery beliefs, all under one roof. In between presentations we had quite a few really enriching conversations. Each person was in process, just like me, sincerely trying to find relevant answers to some of life's most persistent questions. Sometimes it's just a matter of figuring out what questions we should even be asking. And this weekend was no exception.
I will be posting the four presentations from this series next week, under the title Narrative Christus Victor. I began with a simplified overview of the various lenses through which the Jesus story is read, and then we looked at a brief summary of the world view of those in Jesus' time. The rest of the weekend we looked at why Jesus was executed, why His resurrection was such good news, and the relevance of Jesus' life, teachings, execution, and resurrection to even the naturalistic world view that many, by contrast with those of the first century, live in today. My hope is that the recordings of these four presentations will be just as much a blessing to you as they were to those who were present during the event.
Outside of the series, I also was able to reconnect with many friends that I hadn't seen face to face for years. To each of you who were there, thank you for traveling to this event. I miss my friends from the Northwest, and it was good to see each of you.
For the new friends I made, let's keep in touch. We are in this together—living in love, listening with compassion, till the only world that remains is a world where love reigns.
Thank you to the Roseburg Church for having me. It was such a pleasure to be in your midst.
And for all of you who support Renewed Heart Ministries, thank you, too! Jesus taught us, "Freely you have received, freely give." We could not share as generously as we do without your partnership with us. Together we are enlarging what Jesus called, "The Kingdom."
"This, then, is how you should pray: 
  "'Our Father in heaven, hallowed be your name.
Your kingdom come, Your will be done, on earth as it is in heaven.'"
— Jesus; Matthew 6:9–10