May's Book Selection for Renewed Heart Ministries' Annual Reading Course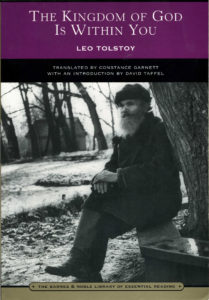 The book we will be reading for May is Leo Tolstoy's The Kingdom of God is Within You. 
Mahatma Gandhi, in his Autobiography, states that among three "moderns," Tolstoy through this volume "left a deep impress on my life, and captivated me." "Tolstoy's The Kingdom of God is Within You left an abiding impression on me. Before the independent thinking, profound morality, and the truthfulness of this book, all the books given me by Mr. Coates seemed to pale into insignificance" (p. 71)
Gandhi's use of nonviolence in the form of 'passive resistance' for social change in South Africa in 1906 had its roots in Tolstoy's influence: "Tolstoy was the best and brightest exponent of the doctrine."  (Collected Works of Mahatma Gandhi, Vol. 9, p. 243) He also was known to carry The Kingdom of God is Within You with him (while in hand cuffs) when he was taken to court. (Ibid. 9:240)
In 1909, he would state, "It was the New Testament which really awakened me to the rightness and value of Passive Resistance. When I read in the Sermon on the Mount such passages as 'Resist not him that is evil' I was simply overjoyed, and found my own opinion confirmed when I least expected it. The Bhagavad Gita deepened the impression and Tolstoy's The Kingdom of God Is Within You gave it a permanent form.' (Gandhi the Writer, B. Bhatacharya, p.57)
Gandhi spoke at Tolstoy's birth memorial in 1928. Among deep praise for Tolstoy, Gandhi said, "Among his works the one which has had the greatest effect on me is The Kingdom of God Is Within You . . .  [I] was sceptical about many things and sometimes entertained atheistic ideas. When I went to England, I was a votary of violence. After I read this book [The Kingdom of God is Within You], that lack of faith in non-violence vanished."
After Gandhi's first reference to Tolstoy's life and teachings in 1889 and throughout his entire life till the end, we find among Gandhi's various letters The Kingdom of God is Within You was ever among the list of books Gandhi recommended most often for people to read.  Gandhi viewed Tolstoy as a "true mentor."
It is with great pleasure that we place Tolstoy's volume The Kingdom of God is Within You in Renewed Heart Ministries' 2016 Annual Reading Course for May.
And remember, if you choose to use Amazon Smile please support the work of Renewed Heart Ministries at no additional cost to yourself.
Happy reading!