March's Outspoken Segment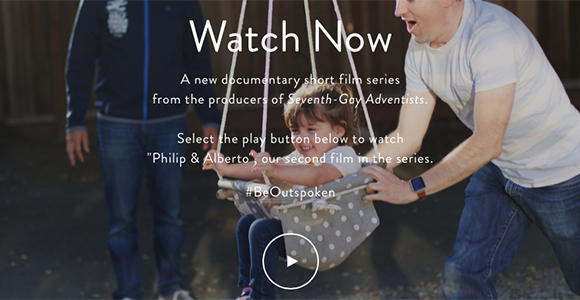 We are pleased to be partnering with Watchfire Films again this month to announce the second installment of the Outspoken series.
#BeOutspoken
#AdventistAndGay
#GodLovesMeAndImGay
From the producers:
"We're thrilled to share the next 'Outspoken' segment. This one features Philip and Alberto, an incredible couple who are deeply devoted to their faith, their church, and their daughter, who they are committed to raising Adventist.
They loved growing up Adventist
They both grew up typically Adventist, and they loved their childhood family memories that revolved around their local church, potlucks, Pathfinders, and Wednesday night meetings. When they started dating their senior year of college, they started talking about having children on their second date. They always knew they wanted kids, and they always knew they wanted to raise those children Adventist. As they say in this piece, it was partly because it was the culture of their family and how they grew up, but it's also what they believe in. When friends from an LGBT-friendly denomination ask them why they put up with many of the small (and occasionally large) slights that they do in the Adventist church instead of going to another denomination, their response is, 'But we're Adventists. We can't just change that like you change a pair of shoes.'
They have remarkable resilience and grace
Philip and Alberto's remarkable resilience and grace for their church is one reason why we wanted to share their story. They know that they are likely the only Adventist gay dads that most of the people at their local church know, and so they have to bear witness–gently and patiently. They believe that one day their regular presence will help those who might tolerate them but not approve of them will help that group of fellow Adventists realize that they have much more in common than not. They are an Adventist family much like any other.
They aren't expecting everyone to agree or share the same theological hermeneutic, but they believe in seeking Christ together and just ask that their fellow church members let them and God talk about their sexuality. Their sexuality doesn't have anything to do with them being able to seek to love and follow Jesus along with their church. And Dalia, their adorable daughter, is growing up with all of the rituals and traditions her dads did in the church. In fact, while they were initially really scared to go to church with her because there's no way to be anonymous when it's clear they are both her parents, she's actually opened a lot of doors and brought them closer to church.
Their way of being outspoken is simpy by continuing to show up–with kindness and patience–and be counted.
Please watch their story and hear them in their own words.
And please find ways to share this story in your own circle. Sharing on social media is great, and you doing so always helps those watching (some of whom you may not even realize are watching) know that you are a safe person who cares about this intersection of faith and sexuality."