Kinship Kampmeeting 2015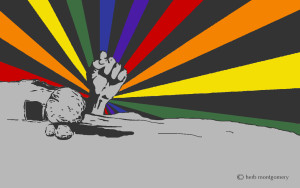 BY HERB MONTGOMERY
July 14-18, 2015; Pomona, CA

A good tree cannot bear bad fruit, and a bad tree cannot bear good fruit. – Jesus
I was privileged again to be able to take part in SDA Kinship's annual Kampmeeting this summer. Last year's meetings were held just outside Atlanta, GA, and this summer we met just outside of Los Angeles.
An Adventist theology professor gave the first presentation, and I have to admit that after listening to his first presentation, I had a total "theo-crush" on this man! Let me explain.
My first presentation was scheduled for the next morning and I was sweating it. I was going to be discussing how Jesus used Genesis 1 in Matthew 19 to subvert Genesis 2. To really see what Jesus was doing in Matthew 19, it takes more time to unpack Genesis 1 and 2 than I had for my presentation. So I sat down to listen to the speaker that first night and was in shock. His presentation was on Genesis 1 and 2, and the way he reframed those two chapters paved a highway for my presentation the next morning. And he did an infinitely better job with retelling these two chapters than I ever could have. I was in awe.
The four presentations I chose to share this year were:
1. The Radically Inclusive Jesus
2. Pyramids, Circles and a Shared Table
3. The Jesus Story (The Divine Protest of the Resurrection)
4. Thurman's Three Hounds
I will be posting these four presentations soon on our website for those who were not able to attend this year.
SDA Kinship creates a safe space for those who daily work to survive in a world where the majority has artificially defined normativity. That would be praiseworthy enough, but what I most thank Kinship for this year is taking my hand and ushering me into a world that exists beyond the thin veil of the majority. The dominant world is a world we think is real, but it's a facade. There's a much larger world where many who don't fit easily into society's "norm" live in every day. That is the real world, and I'm thankful to Kinship for opening my eyes to it. Thanks to Kinship, I've met an amazingly beautiful community of incredible people forced to live on the fringes of our society here in the West.
Each of you who support Renewed Heart Ministries, please listen to these four presentations. Listen all the way through to the last presentation where we close with Howard Thurman's book Jesus and the Disinherited and the "three hounds of hell" that dog the souls of the oppressed.
This is a community whose voices have been excluded from most tables. Whenever anyone's voices are excluded from a table, those at the table will inevitably shape a world that is neither safe nor compassionate for those missing. History teaches that those we seek to exclude today are those we will one day seek to exterminate : the fruit of wiping a community of people off the face of the earth tomorrow can be traced back to the seed of today's exclusion.
Instead of the exclusive table, Jesus modeled a table he shared with those on the fringes of his society. I believe it was because he understood the danger of exclusion that he formed those shared tables.
And so Jesus modeled a way toward a safer more compassionate world for us all.
That way is still here for our choosing.
I wish I could share with you all of the life-changing stories I heard during my time at Kampmeeting. I also wish I could recount the many stories of gratitude and appreciation from those who've chosen to follow the teachings of Jesus because of the work of Renewed Heart Ministries. Together we're making a difference in the hearts of those whose lives have been damaged by Christianity and the Church. Together, we're doing a work of healing and empowerment. We are making a difference especially for those whom the church has long excluded. Together we're learning how to affirm our own value as those who bear the image of God and choose a world where love truly does win.
I want to thank the Kinship community for inviting me back this year. You continue to tell me the difference I've made for so many of you, but that difference is more than mutual. Because of my time with you, I will never look at people or the world the same way. You've helped me, too, to see Jesus in previously unperceived ways: you have changed my life forever. And I can't thank you enough.
Till the only world that remains is a world where Love reigns, let's keep choosing, together, a safer world for us all.