Jesus' Preferential Option for the Marginalized: LGBTQIA Identities and the Image of God
Asheville Adventist Forum
Asheville, NC
May 19, 2018
Two weekends ago, I had the privilege of revisiting Asheville, N.C. and sharing with the Adventist Forum there.  The title of the presentation I gave was Jesus' Preferential Option for the Marginalized: LGBTQIA Identities and the Image of God.
We had a good turn out for the afternoon, and the response was overwhelmingly positive. I always walk away from the Forum there in Asheville thankful for groups like this.  We need more groups that are open, inclusive, and unthreatened by questions.  The questions I chose to elicit in our afternoon session were questions relating to how cis-hetero, patriarchally defined normativity simply doesn't line up with what we experience as reality in our world. Once my presentation was finished, I turned off my recording device in respect for the kind of safe space we were seeking to create for people to be able to ask questions.  The discussion which ensued was rich. This is one of the things I appreciate most about the Forum group in Asheville. This is a place where it is safe to ask questions that you might be afraid to ask in other environments.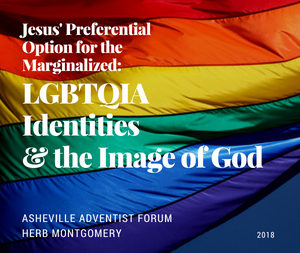 You can listen to the presentation portion of our time together at:
Jesus' Preferential Option for the Marginalized: LGBTQIA Identities and the Image of God
The morning before our afternoon session together, I had the privilege of baptizing a dear sister who also belongs to the LGBTQ community, raising a daughter with her wife, and because of which has been denied baptism by pastors of her own faith tradition. These moments are deeply precious to me.  I refuse to allow faith, faith traditions and religious rituals to be surrendered to religiously legitimized cis-heterosexism. Whomever it is being religiously labelled as "sinner" or "other" in order to justify their marginalization and/or exclusion by bigotry thinly veiled by a form of religiosity, these are those Jesus would have practiced a preferential option for.  Though writing in the context of the Black community living in a culture of White exceptionalism, Rev. Dr. Kelly Brown Douglas' words also richly apply to the LGBTQIA community living in a culture steeped in cisheterosexism:
"One of the fundamental tasks of the church is to bear the memory of Jesus. This means being in the world as he was. To do this requires entering into solidarity with the crucified class in any given context." (Stand Your Ground; Black Bodies and the Justice of God, p. 198). 
Let me share a word about baptism. Baptism should not separate us from the rest of our human siblings. We are all connected. We are part of one another. We are each other's fate. In my opinion, baptism simply expresses that a certain someone has seen intrinsic value in the teachings of the historical Jesus of Nazareth. Teachings they believe can still speak into our work today of survival, resistance, liberation, reparation and transformation of our world into a safer, just, compassionate home for everyone. If someone wants to follow Jesus and they find meaning in the ritual of Baptism, it is my pleasure to assist them. I believe there isn't a contradiction between someone's LGBTQIA identity and their desire to be a follower of Jesus.  Matter of fact, to date, I have yet to experience Jesus the way I do when I am among my LGBTQIA Christian friends.
Lastly I want to say thank you to each of you who are supporting the work of RHM and helping us grow right now.  It is not hyperbole to state how difficult it is to minister in opposition to religious bigotry and continue to refuse to surrender the Jesus story to those who would use the Christian faith to do damage to another person or community. Thank you for supporting us. We could not exist without you. We are committed to being a source of love, light, liberation and healing in our world today. Thanks for partnering with us in this.  Our work, as well as the work of others who are engaging in similar endeavors, is so deeply needed right now. Thank you.