It's #GivingTuesday!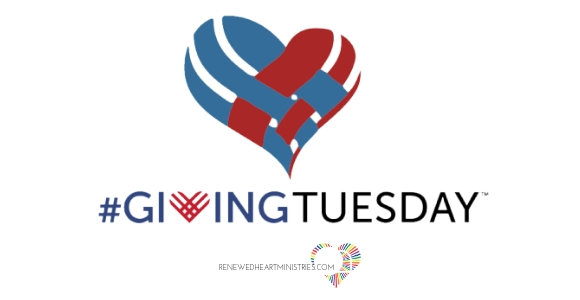 Yes! I want to support RHM's work today on this #GivingTuesday
Giving Tuesday has arrived and we are excited to participate in this global day of giving once again. 
This weekend I was struck with the power of the timing of this day. American culture has spent the last few days in the spirit of accumulation, and while some use this time out of necessity, (I was able to pick up some firebrick at a price I could finally afford for our family's wood stove that needed rebuilt), to a large degree this was a string of days focusing our attention in our consumer culture on acquiring even more.  
Giving Tuesday disrupts that current of "getting" with the call to give instead. Rather than playing on our feelings of scarcity which drive us to want to gather more, it calls us to embrace a spirit of gratitude for the blessings we already have and to give what we can to help others who have less. 
I've come to love #GivingTuesday. 
It's disruptive. 
It's a form of resistance to a culture that too often places profit over people and reminds us that  we are all connected. That people matter.  And that we can do great things when we combine our efforts and give together. 
We here at Renewed Heart Ministries believe that things that drive us toward taking care of one another, mutual aid, resource sharing, belonging, and community are the things worth supporting and participating in. These are things that grow out of our passion for engaging the intersection of faith, love, compassion and justice. 
As many of you know, RHM offers resources that inspire and renew hope, directing our feet to take action throughout the entire year, partnering with you and many others in the work of shaping our world into a compassionate, just and safe home for all.  
This #GivingTuesday we are asking you to support our much needed work. 
A new friend who attended one of our week long events this past year wrote in:
"I think I need a week in solitude to just absorb, consolidate, dream, energize and activate after the last few days.
I had a feeling deep down, that I would feel a change in direction, deep impression, inspiration, soul-filling from Herb being here – and the last few days have been a journey and a half already!
I had a soul-awakening tonight, like God speaking into my story. I feel as if I have been fueled and directed! One of the things that got me starting to cry to start with tonight was Herb's definition of God's kingdom – where a community of people desiring to live out Jesus' principles of distributive justice, sharing, compassion and care—that's us! How exciting! I've gone from not feeling like we were doing enough to having real direction and feeling inspired for what lies ahead. I can't thank you enough for hosting and sponsoring this event!"
These critical moments where people are connected with the things in life that matter are what you are empowering and enabling to continue by your support of RHM today.  
Thanks to some of our very generous donors, today's contributions are being matched. The first $1000 raised today is being tripled! We actually met this goal as of 6 a.m. this morning.  Thank you so much! 
For the rest of today, every contribution you make to RHM is being doubled through matching funds from another of our kind sponsors.
Together all of us can make a difference.
To support RHM's work and help us grow click:
Yes! I want to support RHM's work today on this #GivingTuesday
Thank you for your support!
Every amount helps. 
Another world is possible.
With much love and gratitude for each of you,
Herb Montgomery
Director
Renewed Heart Ministries