Garden City Fellowship; Christchurch, New Zealand
June 21-28, 2014
I had no idea that there were so many in New Zealand who were being inspired by the ministry of Renewed Heart Ministries (RHM).   Let me tell you the whole story.
The trip began with me arriving at Dulles airport in Washington, D.C., only to discover that Air New Zealand had lost my reservation.   My trip had only just begun, I'd just completed the first leg that took me from Lewisburg to D.C., and I found myself standing at the ticket counter with the rest of my itinerary having simply disappeared.  I had arranged all the travel details a month beforehand, and now I had to scramble to find a ticket to New Zealand, for that very day! After having my original airfare refunded, and saying a prayer asking for wisdom, I found another plane that was leaving in just four hours that would take me to Christchurch.  It was on a different airline, and the ticket would be twice the cost of the original one I had purchased the month before. I sat there in the airport wrestling with whether to just cancel the whole series or to embrace the extra cost and trust God to make up the difference. I felt Jesus whisper, "Trust me Herb, you'll understand on the other side." So I took the chance, knowing that Renewed Heart Ministries would now be sharing half the cost of this series as well.  I'm very conscientious with the resources God blesses Renewed Heart Ministries with.  Not knowing where the rest of the ticket cost would come from, Jesus pressed in close and said, "I've got this part, you just get to this church."
I was off to an unnerving start.  I would now be arriving late Friday night in Christchurch rather then the originally planned time, which as Friday morning.  My first talk was not until Saturday morning, so either way I still had enough time to make it.  After flying for twenty-plus hours, and a flight delay, I arrived at 1:30 a.m. I quickly grabbed about five hours of sleep; when I woke up I was ready to give my first presentation.
On the first day, the presentations were exceptionally well received. I was honestly blown away to discover that so many people had been listening to Renewed Heart Ministries' resources.  I had no idea there were this many dear people in the southern hemisphere tracking with me through our online presentations and weekly podcasts.  I was pleasantly shocked!  After a full day of presentations and meeting, talking,[.1]  and listening to so many people, I got to bed that night at about 11:00 p.m. for some much needed sleep.
The rest of the series was not scheduled to continue until Monday evening, so I had a day to adjust, recoup, and get my thoughts together. I travelled to the west side of the island for some sightseeing and I recorded the following week's podcast.  The next day we would embark on a series of presentations for the community of Christchurch entitled Jesus For Skeptics, and from the little I had seen already, I was looking forward with anticipation to what God was going to do.
The topic line-up for Jesus For Skeptics was simple.  New Zealand, much like Europe and Canada, is a very secular country.  I was not going to spend the week speaking on topics of ontological apologetics.  Our time was limited and I wanted to get into the subject matter that Jesus was passionate about as well.  I didn't have time to spend on the evidence that we do have for the historical reliability of the Jesus story.  So, I simply went for it.  Each night, I asked the audience not to focus so much on proving the "historicity" of the Jesus story, but, instead, to discover what the "Story Truth" of the Jesus story was, historically reliable or not, and to ask themselves if they saw that the "Story Truth" of the Jesus story held any relevance for the twenty-first century . (For those not familiar with this approach, "Story Truth" is different from "Historical Truth."  Take fairytales for example. No one tries to prove whether or not Cinderella actually took place in history.  We listen to the story and we gain the "Story Truth" of the stories in that genre and we apply the story truth to our lives today.  I'm not saying the Jesus story is nothing more than a fairytale.  In a very secular society, what I was asking the people in the audience to do each night was to ask themselves if the ethical teachings of this Jesus in this story resonated with them, regardless of whether they thought the Jesus story was historically true or only fiction; I asked them to consider if a world that looked like the world Jesus was seeking to create resonated with them, and if they thought that Jesus' ethical teachings had any relevance for us in our world today in the twenty-first century.)
The topic line-up for the week was the radical inclusivity of Jesus for the marginalized, Jesus' teachings on nonviolent, direct action for addressing and rectifying injustice and oppression, Jesus' teachings on the narratives of greed and helping the poor, and the cross and resurrection as God's victory over this world's politics that are so dependent upon violence, economics that are driven by greed, and religion that is rooted in fear.  By this time, the "Story Truth" of the Jesus story was standing before us in brilliant, pristine clarity.  The relevance of this story to our lives in our world today where oppression, injustice, and violence are rife was astounding.  We took one night looking at whether someone had to embrace the traditionally retributive, and violent, Christian doctrine of "Hell" to become a Jesus follower in our world today, and then we finished up the last weekend by addressing what it would mean for those in attendance to become a Jesus follower.
The response was overwhelmingly positive.  This series of presentations was more abbreviated than the many presentations I typically give in a series of this nature; nonetheless, it turned out to be just as significant a blessing for those who attended.
You can find the MP3s and the videos for each presentation on our website soon.
Over the course of that week, I meet a dear new friend whose life was dramatically changed when a friend gave him a copy of The Jesus Dialogue series, even though he had not been raised in "church".  I also met a new friend from London, who is now living in Christchurch, who had been significantly blessed by the resources of Renewed Heart Ministries.  I also met a dear lady who, on the opening night of the series, came to terms with what it means to be an ambassador of forgiveness toward her enemies rather than desiring retributive vengeance.  She looked at me and said, "I've been looking forward to a day when God would wreak vengeance on all my enemies, and that day I see now isn't coming, is it Herb?"  This dear lady was finally set free by learning to forgive.  I met another dear friend—and if I were to tell you all that he and his family have been through it would fill no less than ten newsletters—who shared how encountering the teachings of Jesus through Renewed Heart Ministries had radically changed their life and put them on the path of healing. I met another young lady who had been shunned by her church, which was focused primarily on outward, performance-based conformity, who saw herself in the Jesus story specifically. I witnessed how Jesus responded to a lady such as herself, and I felt Jesus' love restoring her to be a Jesus follower once again.  The week ended for me by meeting a new friend who shared how his life had been turned "upside-down" by the teachings of Jesus. This friend also wanted to be baptized as a disciple of Jesus, a Jesus-follower.   Mind you, it is winter in New Zealand.  Suffice it to say, on record, that is the coldest, and I mean coldest baptism I have ever done to date.  Welcome to the Kingdom, my new friend.  Some are saved by fire (1 Corinthians 3.15), others are saved by water (1 Peter 3.21); you, my friend, were saved by ICE!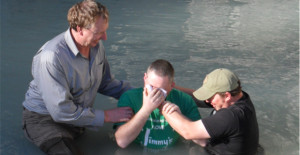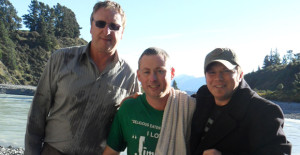 Right now, I'm on a plane back to the states, in awe of all that God did over this trip.  I'm thinking about my last weekend in New Zealand, where I walked into the home of a family who had been coming to the meetings and saw a copy of Renewed Heart Ministries' monthly newsletter on their dining room table amid a bunch of other mail.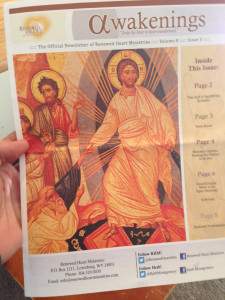 I honestly had no idea how many people in New Zealand were following the ministry of Renewed Heart Ministries (RHM).  I am honestly overwhelmed.  I want you too, dear reader, to catch the significance of this.  There are so many people around the globe right now that are either coming to Jesus for the very first time through this ministry or are returning to Jesus after some time away (for whatever reason, but most of the people I meet originally left over some type of religious abuse).  These are precious souls to our Father, and they are being reconnected with this life, as well as this world, transforming love.   Only time will tell how far-reaching RHM's efforts in sharing the Jesus story will be.  I met so many beautiful people, heard so many heart-touching stories of lives that were either being changed, or had begun to now be changed, through the Jesus, you and I, together have shared with them.  That's right.  "You and I."  Together.  Renewed Heart Ministries could not do what we do for Christ's Kingdom without your partnership through your prayers and support.  Together, all around this globe, through us, Jesus is changing hearts, minds, and lives both for today and for all eternity.
As I think back on my time in New Zealand and all the beautiful people I met, I'm reminded of the prayer our Lord taught us to pray:
Our Father in heaven, may who you really are be made manifest to those in this world.  May your Kingdom come, may your will be done, once again on Earth as it is in heaven.  May we receive what we need for today and share the extra that we gather with those who only gathered a little.  Teach us how to forgive, as well as to be forgiven.  And, may we cease uniting around common enemies, may we be delivered from the way of the accuser, and may we learn a life of love instead.
Until the only world that remains is a world in which Christ's love reigns.
To each of you who support Renewed Heart Ministries in any way, thank you.
I love you guys.