First Fridays
Kingsway House
Philadelphia, PA  |  September 7, 2018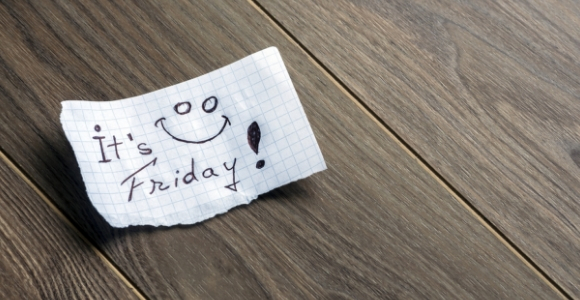 This past weekend I had the pleasure of speaking at the inauguration vespers of a new faith community in the Chestnut Hill area in Philadelphia. As their name states, this community will be gathering together on the first Friday of every month.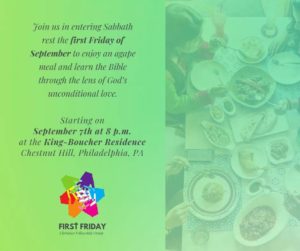 What made this group so special for me is the need that was behind the creation of this community. Those who are pioneering this group are a group of LGBTQ Christians and straight, cisgender allies who have recently been shut out of their previous faith communities because of either their own identity or their solidarity with those being marginalized in response to their identity. These are beautiful people who deeply desire to follow Jesus even in spite of how they have been treated by their previous churches.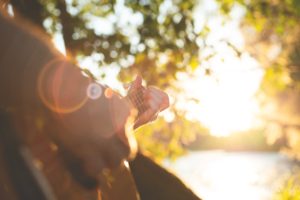 One of the attendees shared with me an experience of their interaction with the leadership of their previous church, "It's as if they [the leadership of the congregation they were previously a part of] don't even care about how their choices and their actions are affecting those who are being hurt by all of this. It's as if they want to purify their ranks, according to their own interpretation of what purity is, and they don't care if their numbers shrink or who gets hurt in the process."
This sadly happens all too often. Compassion is sacrificed. Listening to the experiences of the vulnerable takes a back seat to fidelity to a community's definition of purity. Over the weekend I was repeatedly reminded of the following statements by the late Marcus Borg in his exceptional volume, Meeting Jesus Again for the First Time:
"The challenge is singled at the outset by the imitatio dei [imitation of God] of which Jesus speaks. It is striking that 'Be compassionate as God is compassionate' so closely echoes 'Be holy as God is holy,' even as it makes a radical substitution.The close parallel suggests that Jesus deliberately replaced the core value of purity with compassion. Compassion, not holiness, is the dominant quality of God, and is therefore to be the ethos of the community that mirrors God . . . There is something boundary shattering about the imitatio dei that stood at the center of Jesus' message and activity. 'Be compassionate as God is compassionate.' Whereas purity divides and excludes, compassion unites and includes. For Jesus, compassion had a radical sociopolitical meaning. In his teaching and table fellowship, and in the shape of his movement, the purity system was subverted and an alternative social vision affirmed. The politics of purity was replaced by a politics of compassion." (Marcus J. Borg; Meeting Jesus Again for the First Time. p. 56-58)
We need more communities like the one I just witnessed in Philadelphia. We need communities that practice a preferential option for the vulnerable that are rooted in compassion and born out of experiences that inform and shape the kind of people who create safe, inclusive communities.
I want to thank First Fridays for inviting me to share this first evening alongside them. The title of the presentation I gave was Another World is Possible. In this presentation I focused on Jesus' vision for human community. We specifically looked at what communities that are shaped by Jesus' teachings will be characterized by. The three areas we chose to look at were spiritually, relationally, and the concrete, material ways we can take care of and empower each other to thrive collectively as we do life together. I believe that it is out of the soil of communities like these that we can grow a world that, on a larger scale, becomes a safer, more compassionate, and just home for everyone. I look forward to what lies ahead for this group named First Fridays. I'm honored and humbled to have been able to participate in its beginning. 
And to each of you who support our work here at RHM, thank you. Supporting and helping communities who are rediscovering and desiring to follow Jesus' inclusive shared table more deeply are the type of communities we are proud to be a part of birthing. Our work simply could not continue without your generous partnership and support, and so I want to thank you, too!   
As I shared in last week's eSight/podcast, this is the time of year when Renewed Heart Ministries needs your support the most in order to meet our modest yearly budget. If you have been blessed by our work, please consider making a one time gift or becoming one of our monthly contributors. Any amount is deeply appreciated.
You can make a contribution to RHM online by clicking: 
Or you can mail your support to:
Renewed Heart Ministries
PO Box 1211
Lewisburg, WV 24901
Thank you so much for your support.
Do you get RHM's FREE monthly newsletter Awakenings?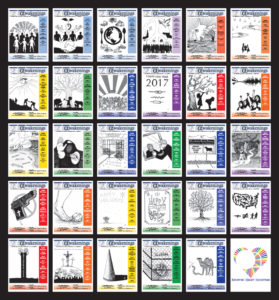 Each month's issue contains relevant articles, updates about what projects we are working on, and how you, too, can get involved!
If you, or someone you know would like to get RHM's free monthly newsletter, you can sign up at:
Enjoy!