Finding Jesus is Here!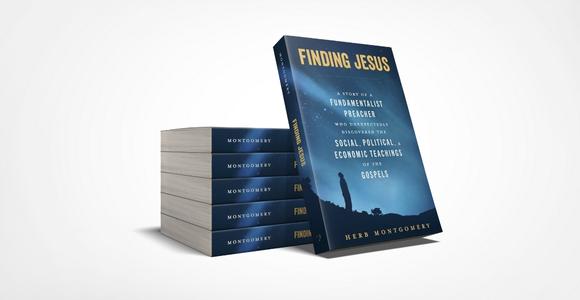 It's Finally Here!
Herb's new book is now available through Renewed Heart Ministries just in time for the holidays!
Finding Jesus: A story of a Fundamentalist preacher who unexpectedly discovered the social, political, and economic teachings of the Gospels
by Herb Montgomery
Here is what people are saying: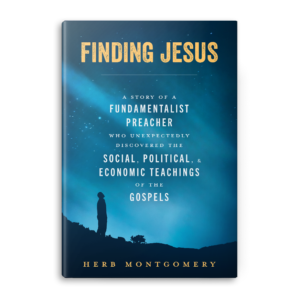 "Herb has spent the last decade reading scripture closely. He also reads the world around us, thinks carefully with theologians and sociologists, and wonders how the most meaningful stories of his faith can inspire us to live with more heart, attention, and care for others in our time. For those who've ever felt alone in the process of applying the wisdom of Jesus to the world in which we live, Herb offers signposts for the journey and the reminder that this is not a journey we take alone. Read Finding Jesus with others, and be transformed together." Dr. Keisha Mckenzie, Auburn Theological Seminary
"In Finding Jesus, Herb Montgomery unleashes the revolutionary Jesus and his kin-dom manifesto from the shackles of the domesticated religion of empire. Within these pages we discover that rather than being a fire insurance policy to keep good boys and girls out of hell, Jesus often becomes the fiery enemy of good boys and girls who refuse to bring economic justice to the poor, quality healthcare to the underserved, and equal employment to people of color or same-sex orientation. Because what the biblical narratives of Jesus reveal is that any future human society—heavenly or otherwise—will only be as good as the one that we're making right here and now. There is no future tranquil city with streets of gold when there is suffering on the asphalt right outside our front door today. Finding Jesus invites us to pray 'thy kingdom come, thy will be done on earth as it is in heaven' on our feet as we follow our this liberator into the magnificent struggle of bringing the love and justice of God to all—right here, right now."—Todd Leonard, pastor of Glendale City Church, Glendale CA.
"Herb Montgomery's teachings have been deeply influential to me. This book shares the story of how he came to view the teachings of Jesus through the lens of nonviolence, liberation for all, and a call to a shared table. It's an important read, especially for those of us who come from backgrounds where the myth of redemptive violence and individual (rather than collective) salvation was the focus." – Daneen Akers, author of Holy Troublemakers & Unconventional Saints and co-director/producer of Seventh-Gay Adventists: A Film about Faith, Identity & Belonging
"So often Christians think about Jesus through the lens of Paul's theology and don't focus on the actual person and teachings of Jesus. This book is different. Here you find a challenging present-day application of Jesus' teachings about the Kingdom of God and the Gospel. Rediscover why this Rabbi incited fear in the hearts of religious and political leaders two millennia ago. Herb's book calls forth a moral vision based on the principles of Jesus' vision of liberation. Finding Jesus helps us see that these teachings are just as disruptive today as they were when Jesus first articulated them." Alicia Johnston, author of The Bible & LGBTQ Adventists.
"Herb Montgomery is a pastor for pastors, a teacher for teachers and a scholar for scholars. Part memoir and part theological reflection, Finding Jesus is a helpful and hope-filled guide to a deeper understanding of who Jesus is and who he can be. Herb's tone is accessible and welcoming, while also challenging and fresh. This book is helpful for anyone who wants a new and fresh perspective on following Jesus."— Traci Smith, author of Faithful Families
Pages: 210
Price: $14.95
Get your copy today!
To purchase click here.