February's Recommending Reading from RHM
The Fire Next Time
by James Baldwin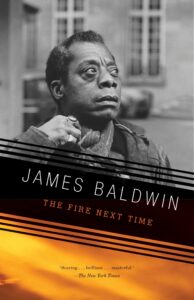 In honor of Black History Month, February's recommended reading is James Baldwin's The Fire Next Time.
This volume was a national bestseller when it first appeared in 1963. It galvanized the nation and gave passionate voice to the emerging civil rights movement. At once a powerful evocation of James Baldwin's early life in Harlem and a disturbing examination of the consequences of racial injustice, the book is an intensely personal and provocative document. It consists of two "letters," written on the occasion of the centennial of the Emancipation Proclamation, that exhorts Americans, both black and white, to attack the terrible legacy of racism. Described by The New York Times Book Review as "sermon, ultimatum, confession, deposition, testament, and chronicle…all presented in searing, brilliant prose," The Fire Next Time stands as a classic of Black literature.
Also, remember, you don't have to order this book through amazon.com, but if you do, please consider using Amazon Smile (smile.amazon.com) and selecting Renewed Heart Ministries as your designated charity for a portion of your purchase to be donated to RHM at no additional cost to you.