F.U.E.L.'s One Year Anniversary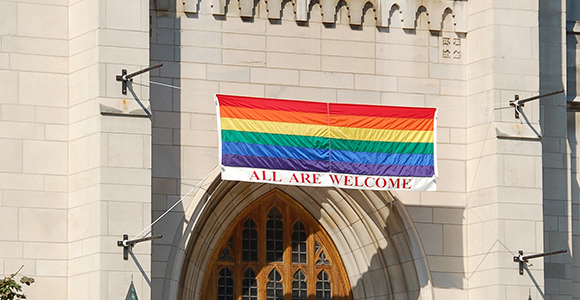 by Herb Montgomery
Philadelphia, PA
January 29, 2016
This past weekend I had the pleasure of being a part of a very special, one year anniversary celebration of a Christian, LGBTQ, fellowship group in Philadelphia, PA. This group is named F.U.E.L.
A little over a year ago the host of this group, Leon King (a friend of mine) contacted me with much fear and trepidation. He wanted to discuss this idea of opening his home as a safe place for his fellow Christian LGBT friends who were being excluded from their own faith congregations to meet for fellowship and to study together. We talked about what that might look like. I encouraged him. And then I drove up to Philadelphia to help him kick off their first event.
A full year has gone by now. And this past weekend this group celebrated their first anniversary. It was a beautiful time together.  During the event we took a moment to go around the room and shared what this group and what 2016 meant for each of us.  I listened to the stories of those in the room, as they recounted their past year and the role F.U.E.L. had played in each of their lives. I was overwhelmed. There are three faces before my mind when I write this.  It is not overdramatic nor an exaggeration to state that without F.U.E.L. there is a high probability someone in the group would not have choose to keep hanging on.  They wouldn't be here this year without the love, support, and safety this small community of fellowship and love has given to them.
I led out in the study/discussion on Luke 4.18-19, a passage that is taking on more and more meaning for me with each passing day. We spoke of the relevance of this passage to this group, specifically what it means to break societal rules, laws and social norms to be a community who cares for people being injured by such. We contrasted religious piety with compassion. Then as we looked ahead to 2017, we talked about what F.U.E.L. can become in their own area to continue being a safe space for those presently vulnerable within our current social/political climate. I feel very honored to have been given the opportunity to participate along side of this group this past weekend.
Thank you Leon, for pioneering this group and providing a location for it to meet.  What you're doing matters. Following Jesus cannot be done alone by any of us.  His societal changes for the outcast and margins of our world are not sustainable unless we engage those changes together.  We are connected.  We are each other's fate.
We at Renewed Heart Ministries are cheering all of you on!
If you live in the Philadelphia area and would like more information on F.U.E.L. you can email us at info@renewedheartministries.com