Encourage One Another
Philadelphia, PA
January 31, 2016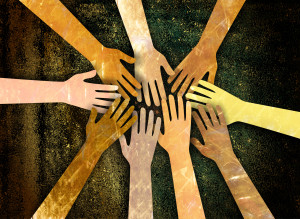 "Therefore encourage one another and build up each other, as indeed you are doing." (1 Thessalonians 5.11)
Two weeks ago, I had the unique pleasure of being able to participate in the launch of a new, Sunday afternoon fellowship group in the home of a dear friend of mine in Philadelphia. This time of encouragement and inspiration is the brainchild of Leon King. Late one evening, I received a phone call from Leon asking if I would be willing to drive up for the day and help him with the "kickoff" of this new venture. Of course!
It was a fantastic afternoon. I met eight very cool people from all walks of life, with different backgrounds and various faith traditions. What bound each of these eight together was a sincere desire to lean more deeply into the teachings of Jesus and to encourage each other, in community, in following those teachings.
For my portion, I chose to share the parallel portions of the Jesus story as we have it today, as found in Matthew 20.24-28, Mark 10.41-45, and Luke 22.24-30, along with the section in the Gospel of John found in 13.4-5, 12-17. I brought out the words of Jesus in these passages—that among his followers there was to be an absence of hierarchy. Rather than seeking, even in subtle ways, to subordinate one another, we are to take the posture of serving and taking care of each other. Every person's voice is to be heard. Every person's story and experience is of value. Each person matters. (In the very beginning of John's gospel, the affirmation of every person is made. In John 1.9, "the true Light" is spoken about, which, this gospel states, enlightens every person. I encouraged each person in this group to honor each person's encounter with this Light.)
As we learn to listen to each other, we grow together. Values and ways of living are born out of this communal encounter with the teachings of Jesus. As each person considers the values of the Jesus story, not only through the lens of one's own experience but also through the lens of each person in the room, we are given opportunities to make choices that can lead us further toward Jesus's safer, more compassionate world for us all.
We went around the room and shared a little about ourselves, why we were there and the things we were facing in our lives. We finished with a time of contemplation and prayer.
On the way back, as I was driving in my car, I wished I could witness more ventures like this one. What a beautiful thing for a group of friends to do for each other.
I've watched some of the emails that have been going back and forth between this group's members over the past two weeks. Emails about who is going to bring snacks for the upcoming week, as well as topics some would like to discuss. I've also seen expressed the needs of some within the group and the ways each person can lend a helping hand.
I'm so encouraged by activity like this. This was what Jesus referred to as "the reign of God." It's people, taking care of people. And I never fail to be awed by its beauty.