Camp Meeting at Akita; July 25–26, 2014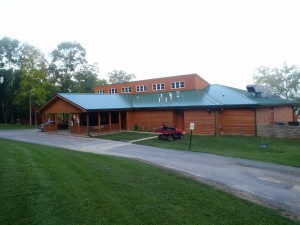 Illinois Camp Meeting
Akita Camp Ground
July 25–26, 2014
I'm just returning from a fantastic weekend of seeing old friends, meeting new friends, and basking with both in the radical beauty of what Jesus called the "good news of the Kingdom."
I was privileged enough to be the final weekend speaker of the Illinois Camp Meeting. I gave three presentations:
Whom Do You See? The Search for a God Who Looks Like Jesus
In this presentation, we focused on what it really means to actually believe Jesus' words, and that if we have seen Him, we have "seen the Father."
The Moment That Changed the World
This was a narrative contemplation of the actual Jesus story and how the life, death, and resurrection of Jesus calls us to abandon the way of sacrifice for the way of mercy. It was about no longer seeing God's presence in the most holy, exclusive core of our sacrificial system, but seeing God as suspended upon the cross of those being sacrificed by such systems. It was a call to see God's solidarity with the sacrificed in every generation. It was also a call to embrace God's new world, where society was no longer united by a common alter, but a shared table—a table where God's presence is seen in the broken and spilled out emblems of He who was sacrificed. God is with them, and we are with God when we are with them.
A Mission of Hope
Last, I gave a presentation on the radically inclusive nature of Christ's Kingdom and what the way of mercy (rather than sacrifice) actually looks like when we apply it to our "mission" as followers of this Jesus. Jesus walked the earth as a radical, inclusive favor of God. He practiced a line-crossing, Pharisee-infuriating, Torah-challenging, "dangerous-labeled" table practice. And as a follower of this Jesus, we have to ask ourselves: Are we?
For all of you who were praying for this event, I want to say thank you. I cannot recount here how many of you came up to me at the end of the weekend to thank me for this new way of seeing God, ourselves, and those around us who we encountered for the first time this weekend. It was truly beautiful. I can say without a doubt—not just by faith, but by what I witnessed—that Jesus' Kingdom expanded.
Thank you for your continued support of Renewed Heart Ministries. Together, we are displaying what a world changed by Jesus looks like and extending to all the invitation to "follow Him."
I love each and every one of you.
Thank you.