COVID-19 and Renewed Heart Ministries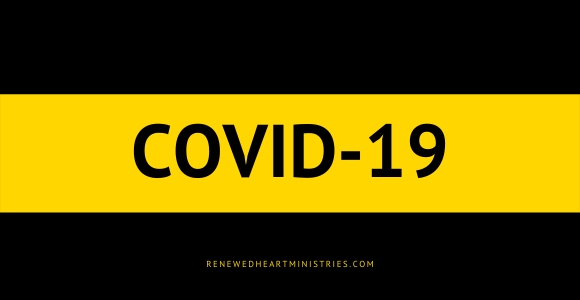 Community is at the heart of everything we believe and do here at Renewed Heart Ministries. We want our supporters to know we are taking the COVID-19 pandemic seriously. The public's health and safety is our top priority right now. Our operations are continuing with each of our RHM team working from home. For the safety of our community, we have postponed all in-person events.
We want to encourage each of you to listen to what the experts are saying right now. On a deeply personal note, I lost my mother to H1N1. We are closely monitoring the guidance from local and federal authorities, the Centers for Disease Control and Prevention (CDC) and the World Health Organization (WHO) to safeguard our RHM community and to participate in safeguarding the health of our population at large. We encourage you to do the same and stay informed.
We will continue doing our much-needed work during this time. And we'll use our blog to share key updates and encouragement with you throughout this time, as well. We'll continue to brainstorm how we can best serve the needs of those in our larger society who are the most at risk as our situation continues to evolve. As someone who supports the work of RHM, we want you to be assured Renewed Heart Ministries is doing its part to help flatten the contagion curve here in the U.S.
We want to encourage each of you to continue to foster connections while practicing social distancing.  We are deeply encouraged as we see how communities are coming together during this time. Human connection is essential to daily life. We want to continue to encourage our HeartGroups to find ways to virtually gather together while remaining in your homes. Together we can do this. This, too, shall pass.  For now, our interconnectedness has never been more apparent. And together we can flatten this curve and keep our most vulnerable safe.
There is nothing more powerful and resilient than when people come together to prioritize "the least of these."
Thank you for showing your love and being a source of compassion and justice during this critical time.
From all of us here at RHM, remember to wash your hands, remain home as much as possible, and if you do need to go out, practice social distancing of at least six feet.
Stay well!
With much love and gratitude for each of you,
We'll get through this together,
Herb Montgomery
Director | Speaker | Author
Renewed Heart Ministries