Book of the Month for September 2019
Reading the Bible from the Margins 
by Miguel A. De La Torre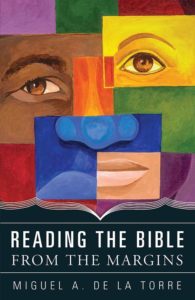 This is one of our favorite books we are recommending this year.  If you are unfamiliar with how social locations impact interpretations of the sacred text of the Bible, this book is a fantastic introduction.
The gospel is thriving on the margins of society. The question for the rest of society is whether we will participate.
This introduction focuses on how issues involving race, class, and gender influence our understanding of the Bible.
Describing how "standard" readings of the Bible are not always acceptable to people or groups on the "margins," this book offers valuable new insights into biblical texts today.
[You don't have to order this book through amazon.com, but if you do, please consider using Amazon Smile (smile.amazon.com) and selecting Renewed Heart Ministries as your designated charity for a portion of your purchase to be donated to RHM at no additional cost to you.]