Book of the Month for July 2019
Said I Wasn't Gonna Tell Nobody: The Making of a Black Theologian
By James H. Cone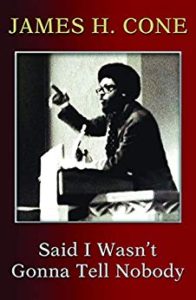 I a tremendous amount of respect and gratitude for the late Dr. James H. Cone. His work has deeply impacted my own journey and understanding. He is widely regarded as the "father of Black Theology"—his own synthesis of Gospel message embodied by Martin Luther King, Jr., and the black pride of Malcolm X. Next year marks the 50th anniversary of his first book, Black Theology and Black Power. 
This book tells his story. This new work is truly the capstone to that career, showing how he was compelled by events to articulate this theology, how it led to his career at Union and his succession of books—along the way learning from his critics, his students, and the ongoing challenge of his principal models—King, Malcolm X, and James Baldwin.
This month's book comes with our highest recommendation here at RHM.
---
[You don't have to order this book through amazon.com, but if you do, please consider using Amazon Smile (smile.amazon.com) and selecting Renewed Heart Ministries as your designated charity for a portion of your purchase to be donated to RHM at no additional cost to you.]