Book of the Month for August 2019
The Heart of Christianity 
by Marcus J. Borg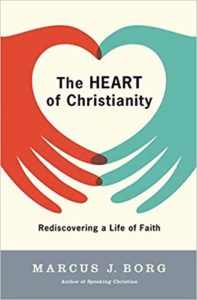 Borg's The Heart of Christianity is divided into two parts.  The second part I wish every Christian would read.  The first part I don't believe is for everyone. Part 1 is for those for whom the kind of Christianity they grew up with, no longer works.  If you need a new way to practice your faith, If you love Jesus but struggle with where Christianity is today, this book is for you.
In The Heart of Christianity, world-renowned Jesus scholar and author of the bestseller Meeting Jesus Again for the First Time argues that the essential ingredients of a Christian life—faith, being born again, the kingdom of God, the gospel of love—are as vitally important today as they have always been, even during this time of conflict and change in the church.
Borg wants to show us, as today's thinking Christians, how to discover a life of faith by reconceptualizing familiar beliefs. Being born again, for example, has nothing to do with fundamentalism, but is a call to radical personal transformation. Talking about the kingdom of God does not mean that you are fighting against secularism, but that you have committed your life to the divine values of justice and love. And living the true Christian way is essentially about opening one's heart—to God, and to others. Above all else, Borg believes with passion and conviction that living the Christian life still makes sense.
[You don't have to order this book through amazon.com, but if you do, please consider using Amazon Smile (smile.amazon.com) and selecting Renewed Heart Ministries as your designated charity for a portion of your purchase to be donated to RHM at no additional cost to you.]