April's Recommended Reading from RHM
Holy Troublemakers & Unconventional Saints
by Daneen Akers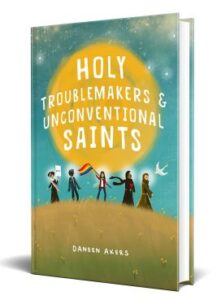 This is a storybook about people of diverse faiths who rocked the religious boat on behalf of love and justice.
With a lot of us at home with our kiddos, this is a perfect book for this time!
Holy Troublemakers and Unconventional Saints is an illustrated children's storybook but we believe it should be read by all ages. This book features the stories of people of diverse faiths who worked for more love and justice in their corner of the world, even when that meant rocking the religious boat. These are people from different religions and time periods who spoke truth to power and did the right thing, even when it was the hard thing. These are not perfect people, but they are people we can glimpse the holy through.
Holy Troublemakers & Unconventional Saints emphasizes the stories of women, LGBTQ people, people of color, Indigenous people, and others too often written out of religious narratives. The book is written for middle-grade age children (and their adults) ages 8 and up. But again, we here at RHM believe it's a book of stories that will inspire all ages.
Copies can be purchased at https://www.holytroublemakers.com