Announcing RHM's Social Jesus Blog on Patheos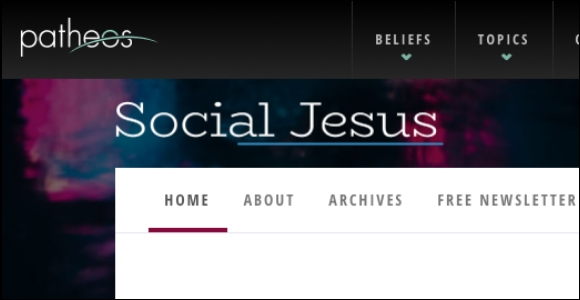 A couple months ago now I was approached by a friend of mine who works with Patheos with about blogging on their blog site. For those who aren't familiar with Patheos, it is an inter-denominational, non-partisan blog site which hosts both religious and nonreligious perspectives. After much consideration and a lot of talking to people I respect, we here at Renewed Heart Ministries felt this would be a great opportunity to grow RHM's work and expand the availability of our resources to a larger group of people.  
We are excited to announce RHM's new blog on Patheos' site:
We will still be posting essays and articles each Friday at renewedheartministries.com and publishing our weekly Jesus for Everyone podcast. (You can latest episode, Episode 289, on iTunes or on our website at https://renewedheartministries.com/Podcasts).  If you are signed up for our daily inspirational quotations email, you'll keep getting those in your inbox, as well. In addition to these, we will now be posting three articles each week on our new Social Jesus blog site, too.
To each of you who support this ministry, thank you for helping us continue to grow.  Your generous support over the years has continually enabled us to step into each of these new opportunities as they arise.  We are excited about what lies ahead for RHM. 
To support our ongoing work click DONATE to make a contribution online, or your can mail your support to:
Renewed Heart Ministries
PO Box 1211
Lewisburg, WV 24901
Whether you give $5 or $5,000, any amount helps us sustain our ongoing ministry in the heart and lives of our listeners.
With much love for each of you,
Herb Montgomery
Director | Author | Speaker
Renewed Heart Ministries