Adventist Pastor Alicia Johnston Comes Out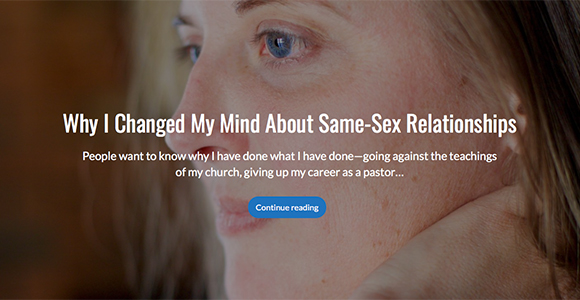 Last week, a dear friend of mine, Pastor Alicia Johnston, a Seventh-day Adventist pastor in Arizona, came out to her church employers and to her church constituents as queer. She also posted a video this past weekend in which she discusses her resignation, affirms her identity as an Adventist, how she still feels called to ministry, her shift in her beliefs about same-sex relationships, and her journey toward affirming her own identity as bisexual and what that means for her.
While respecting the reality that there are those who cannot be so public, we at Renewed Heart Ministries want to applaud Alicia in her decision to be public about this. As she states, "She can be." So she has chosen to do so. She expresses quite eloquently how continual silencing around this topic within the Adventist church is deeply harmful and destructive.
I've been friends with Alicia for quite some time. I'm so proud of her. I'm deeply humbled and honored to be able to call her my friend and to have been able to journey with her in this.  Alicia is right. The Gospel is about liberation. It's not simply private assurance or guilt alleviation, it's public, and it authentically engages both private and systemic injustice.
It will be exciting to watch what is next on the horizon for Alicia.  We are cheering her on.
You can watch her coming out video here.  Leave her a message of encouragement after watching.  Community is how we survive in the work of transforming our world into a safe, compassionate, just home for us all.  And I'm pretty sure Alicia would appreciate hearing some love from all of you.
Please check out her website where she will be continuing to share her journey, and be a resource for both LGBTQ people and their allies.
Alicia, if you're reading this, we love you. We are proud of you. We are beside you all the way.  You're not alone.
And to all of you who support our work here at RHM, thank you.
Keep living in love.
I love each of you dearly.