A Weekend at Glendale City Church
Glendale, CA
October 28-29, 2016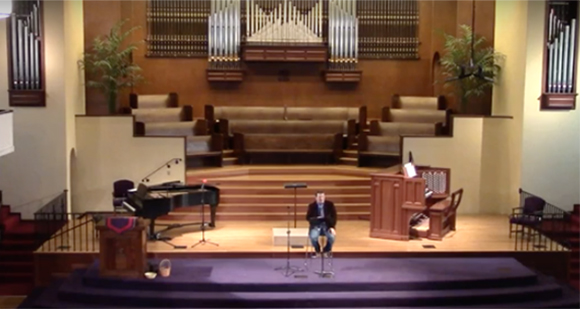 If I had to name one church that I've visited over the years that stands head and shoulders above the rest in providing a safe space for the vulnerable and marginalized within our society, it would be the Glendale City Church in Glendale, CA.
I've been to this church before, and this year they invited me back again.  What made this year's visit special is that the weekend was combined with a screening film Enough Room at the Table. Enough Room at the Table is the follow up film to the documentary Seventh Gay Adventist. (If you have not seen the follow up film yet you can do so here.)  Friday evening after the screening, Daneen Akers, Stephen Eyers, Pablo Ariza, Rhonda Dinwiddie, and myself fielded comments, questions, and response from the audience.  It was a special time for all present.
The next morning I gave two presentations The Healing of Our World and Jesus Interrupted.  Both of these presentations are treatments of new material and will be available on our website soon. The first presentation is our featured presentation this month and can be listened to here.
The afternoon Daneen Akers and I co-facilitated a discussion titled Women, Mother God, and Jesus.  This also was a special time of sharing.  Daneen shared her story of her first awakenings to sense how under-represented she was in the Imago Dei through the liturgy and religious language of her own tradition. I also shared my journey toward more inclusive language in referencing the sacred and the divine.  We both pointed out some of the areas within the Christian religious tradition and theology that are problematic specifically for women.  We affirmed the areas of the Christian religion which affirm women, recognizing that much more work in this area is needed.  As we centered our discussion in the experiences of women, we grappled with Rosemary Reuther's question of whether a male Jesus has anything to offer women in their work toward survival, resistance and liberation.  The remainder of the time was spent opening up the space for others in the room to share their stories. You can access this time of sharing here.
I want to thank the Glendale City Church, and specifically pastor Todd Leonard for inviting me back this year.  I also want to thank the Glendale City Church community at large for creating and intentionally holding open safe spaces, such as we experienced this weekend, within the Adventist tradition where questions and discussions of this nature can take place.  I'm sure this is needed in other traditions. Adventism is one of the traditions where it is absolutely imperative.  Thank you.
I'm looking forward to next year already!