A Special Request
May 21, 2019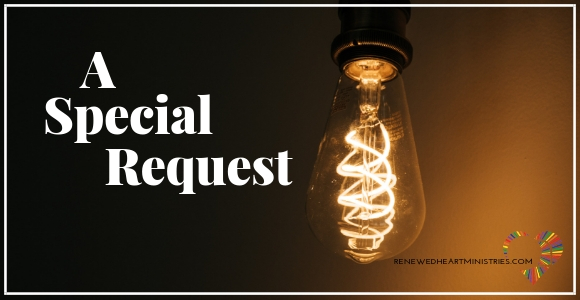 "If we had more presentations like this, our church would be a different place." That's what one attendee said after a series of talks I gave earlier this month.  
With all that is happening right now both within Christianity and in our larger society, our work here at Renewed Heart Ministries is needed now more than ever. 
Most things have cycles.  And ministries have cycles, too.  This is our twelfth year, and as we head into summer, this is one of the two times each year when the need for your support of RHM is both keenly felt, and deeply appreciated.  
As many of you already know, all of our resources and services are provided free of charge.  When we speak at events we do not charge a seminar fee.  And all of the resources we offer are available for free, in one form or another, on our website. This enables us to speak into spaces that more expensive educational ministries simply cannot reach. 
In order to do this, though, we are dependent on your support.  We could not exist nor could we continue to do the work we do without the generous support of our donors and partners through their sustaining contributions.  
We at Renewed Heart Ministries believe that a different kind of Christianity is possible. 
We believe another world is possible as well. 
Will you partner with us in the work of following Jesus' teachings (Luke 4:18-19), participating in his work of love, compassion, inclusion, justice and action? Just this week I received a text message from one of our supporters that said, "We love the weekly podcast. God has used you and your ministry to show me so many new things. God is definitely working through you. Thank you for all you do for God's kingdom!" 
Together we are making a difference, one heart, one mind, one life at a time. Together we are engaging a world that we believe can be shaped into a just, compassionate, and safe home for all (Matthew 6:10, cf. Matthew 5:5).
To support our work click DONATE to make a contribution online,
or you can mail your gift to:
Renewed Heart Ministries
PO Box 1211
Lewisburg, WV 24901
You can make your contribution a one time gift, or please consider becoming one of our continuing monthly sustainers by selecting the option to make your gift reoccurring.
All amounts help, regardless of the size. 
Thank you in advance for your support.  
We aren't going anywhere.  We are here for the long haul.  Till the only world that remains is a world where only love reigns. 
From all of us here at RHM, we love you and we thank you.
With gratitude for each of you, 
Herb Montgomery
Director 
Renewed Heart Ministries