A Shared Table: A Fundraiser for Renewed Heart Ministries
by Herb Montgomery | October 2, 2018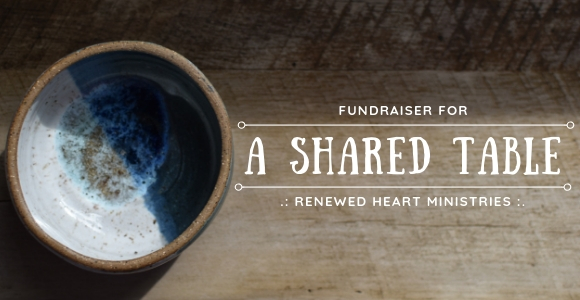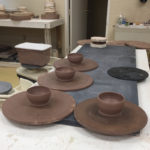 A few years ago now, Crystal and I took up pottery as a way to spend time together in the midst of a lot of traveling that I was doing at the time. As time went on, a United Way branch here in Lewisburg put out a call to all potters in our area to donate bowls for a local fundraiser event they were hosting for one evening in the fall that they called Empty Bowls. Crystal and I made fifty bowls that year for them and have continued to do so each year.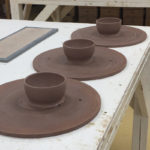 Last year, when we were posting some pictures of these bowls on social media, a friend of Renewed Heart Ministries chimed in, "That would be a great idea for Renewed Heart
Ministries, too! It's a perfect representation of Jesus' shared table philosophy of doing life together."  And I thought, yes! It actually is! And it's versatile. If someone wanted to actually use it, they by all means could. Each time you eat from this bowl or use it as a serving dish, you can be reminded of Jesus' shared table, mutual aid, and philosophy of resource sharing as a means of restructuring our communities and healing the hurts in our world. You can also place it on your coffee table or desk at work as a conversation starter. When asked about it you can share with them about the Shared Table philosophy, and even direct them to Renewed Heart Ministries to find out more. That way you can partner with us in even more ways to get the message of -love, compassion, justice, sharing and taking care of one another- out.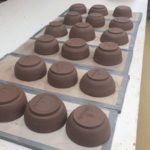 So this year, along with the usual bowls that we are throwing for the United Way, we are also throwing bowls for what we are calling A Shared Table: A Fundraiser for Renewed Heart Ministries. To participate, all you have to do is become one of our monthly automated reoccurring donors during the month of October by subscribing at https://renewedheartministries.com/donate/. There's no minimum amount. And of course, you can pledge as much as you'd like, as well. Just make sure you select "Check this box to make it a monthly recurring donation", or if you are using Paypal, check "Make this a monthly donation." These types of subscriptions allow nonprofits to plan for their coming year.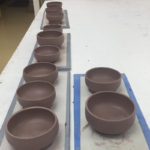 And if you are already one of our monthly automated donors, you don't have to do a thing. We want to honor your existing continual support of Renewed Heart Ministries. At the end of October we'll also send you one of RHM's Shared Table Pottery Bowls so you can join in sharing the message of a shared table, too. You've been partnering with us already in so many ways, and we thank you. Now you'll be able to help us even more by putting your Shared Table Pottery Bowl on display and when the conversation comes up, tell folks all about Jesus' vision for a world shaped in the form of a shared table and send them our direction to find out more.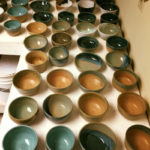 Crystal and I are so excited to be offering these bowls as a visual representation of a safer, more compassionate, and just world that we here at RHM, following Jesus along with you, are working to create.
Click  "Subscribe" and get your RHM Shared Table pottery bowl today!