A Shared Table 2021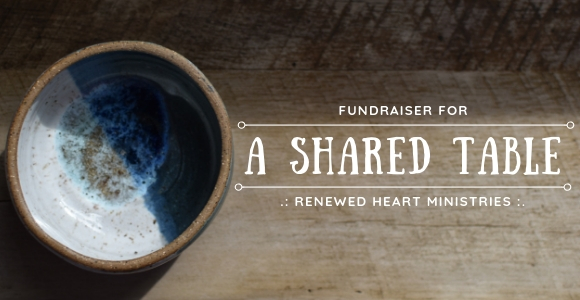 We are so excited to be able to be offering this opportunity again after having to cancel this event last year due to the pandemic.
This month, become one of our monthly sustaining partners and receive a handmade Renewed Heart Ministries Shared-Table Pottery Bowl made by Crystal and Herb as a thank you gift for your support.
To become a monthly sustaining partner, go to renewedheartministries.com/donate and sign up for an automated recurring monthly donation of any amount by clicking the "Check this box to make it a monthly recurring donation" option. Or if you are using Paypal, select "Make this a monthly donation."
Once November has ended, we will be sending out these lovely bowls for the holiday season.
In the gospels, Jesus teaches a gospel of loving our neighbors, being committed to caring for one another, a gospel of a shared table of inclusion, especially of the marginalized. Jesus modeled this gospel by a life spent healing hurts in our world, and challenging the systems responsible for that harm.
Jesus' gospel of a shared table is what this pottery bowl represents.
Our prayer is that each time one of our bowls is used you will be reminded of Jesus' gospel of love and caring. They also make a great gift or an excellent conversation starter, as well.
Thank you for partnering with us to further the work of love, compassion, justice, and taking care of one another. Together we are working toward a safer, more compassionate, and just world both for today and for eternity.
If you are already one of our sustaining partners making a monthly automated donation each month, we want to honor your existing continued support of Renewed Heart Ministries, too. You'll receive one of our Shared Table Pottery Bowls for 2021 as a thank you, also.
Crystal and Herb are so excited to be donating these bowls again this year.
From each of us here at RHM, thank you for your support of our work.
We wish you joy, peace, happiness, and blessings as we enter this year's holiday season. Your support sustains our ongoing work in the coming year.
Both within our world as well as our various faith communities, together we will continue being a voice for change.