A Shared Table
The Heart of the Universe that beats for those on the Margins.
by Herb Montgomery
Glendale City Church
Glendale, CA
October 2-3, 2015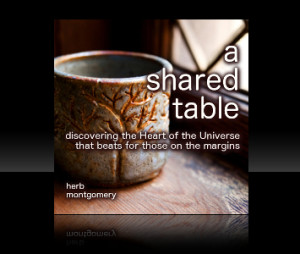 This last weekend I had the extreme pleasure of giving a series of presentations at Glendale City Church in Glendale, California. Very few churches within the Adventist faith tradition are practicing a shared table in the way I witnessed these folks presently doing.  I was so encouraged by what I saw taking place.
I spoke four times over the course of Friday and Saturday
Presentations 1: The Heart of the Universe
Presentation 2: A Shared Table
Presentation 3: Lambs Among Wolves
Presentation 4: Three Reasons Jesus Remains Relevant
I met some really fantastic people from all different walks of life!  I had the opportunity to also learn about an amazing ministry that seeks to eliminate economic need within their own community.  This organization is the Glendale Communitas Initiative, and you can learn more about them here.
I also was able to reconnect with some wonderful friends from the past.  It was so good to see each of you. To those who were able to attend, I absolutely loved the time we shared.
Lastly, we spoke of starting a new HeartGroup in this area, as well.  For those in the Glendale area who would be interested in being a part of a HeartGroup please email Jeremy at jcowin@me.com.
For the rest of you who were not able to be at this event, the recordings from these presentations can be found here.
As you listen to each of these presentations, it is my prayer that your heart will be awakened, renewed, empowered to embrace compassion toward those to whom the present arrangements of our world are doing harm.  Jesus offered us the way of the Shared Table instead.  It's up to us to choose it.
Till the only world that remains is world where Love reigns.
Thank you for supporting RHM.