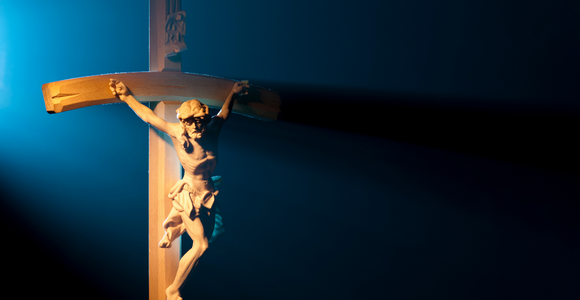 Herb Montgomery | January 13, 2023
To listen to this week's eSight as a podcast episode click here.
---
"As Jesus followers, Jesus is our example. In his teachings of the Golden Rule and his life of love, Jesus's life models a path for healing our world. And that's why how we interpret Jesus' death matters. If we interpret Jesus' death as redemptive suffering, then his suffering becomes a life model for us even if it means we die in the process at the hands of our oppressors and abusers. It's dangerous."
---
Our reading this week is from the book of John:
The next day John saw Jesus coming toward him and said, "Look, the Lamb of God, who takes away the sin of the world! This is the one I meant when I said, 'A man who comes after me has surpassed me because he was before me.' I myself did not know him, but the reason I came baptizing with water was that he might be revealed to Israel." Then John gave this testimony: "I saw the Spirit come down from heaven as a dove and remain on him. And I myself did not know him, but the one who sent me to baptize with water told me, 'The man on whom you see the Spirit come down and remain is the one who will baptize with the Holy Spirit.' I have seen and I testify that this is God's Chosen One."
The next day John was there again with two of his disciples. When he saw Jesus passing by, he said, "Look, the Lamb of God!" When the two disciples heard him say this, they followed Jesus. Turning around, Jesus saw them following and asked, "What do you want?" They said, "Rabbi" (which means "Teacher"), "where are you staying?" "Come," he replied, "and you will see." So they went and saw where he was staying, and they spent that day with him. It was about four in the afternoon. Andrew, Simon Peter's brother, was one of the two who heard what John had said and who had followed Jesus. The first thing Andrew did was to find his brother Simon and tell him, "We have found the Messiah" (that is, the Christ). And he brought him to Jesus. Jesus looked at him and said, "You are Simon son of John. You will be called Cephas" (which, when translated, is Peter)." (John 1:29-42)
John the Baptist's relationship with Jesus evolves through the four gospels in our sacred canon. By the time of this last written gospel, Jesus goes from being a disciple of John's to being someone John didn't even know: John merely prepares the way for Jesus. (Luke gospel is also different; see Luke 7:18-20.) In this week's passage, John uses the unique language of Jesus being the "lamb of God." This language developed late in the early Jesus community, and different ways of explaining Jesus' death coexisted alongside each other. We'll discuss the image of Jesus being God's "lamb" more in a moment.
First, though, it is helpful to understand some of the political context in which John was written. The early Jesus community was establishing its authorities and choosing leaders to rally around. Peter's leadership is referenced in this week's reading.
The synoptic gospels juxtapose Peter's denial of Jesus with Peter's confession, the first in the gospel stories, that Jesus is the "messiah": "But what about you?" Jesus asks Peter in Mark 8:29. "Who do you say I am?" Peter answers, "You are the Messiah" (see also Matthew 16:16 and Luke 9:20).
John's gospel affirms and expands this tradition:
Simon Peter answered him, "Lord, to whom shall we go? You have the words of eternal life. We have come to believe and to know that you are the Holy One of God." (John 6:68-69)
In Matthew, Peter's confession even more significant: it becomes a foundation of the community that forms around Jesus:
Simon Peter answered, "You are the Messiah, the Son of the living God. Jesus replied, "Blessed are you, Simon son of Jonah, for this was not revealed to you by flesh and blood, but by my Father in heaven. And I tell you that you are Peter, and on this rock I will build my community (ekklesia), and the gates of Hades will not overcome it. (Matthew 16:16-18)
So much has been written on the wordplay in this passage, and the relationship between Peter's name (petros) and the rock (petra). Through this story of Peter's confession of Jesus as the "messiah," people in the early Jesus movement are endeavoring to establish their preferred authorities. Peter's confession of Jesus' messiahship was especially important to the community that recognized and followed Peter's apostleship.
There are a few minor differences between the early gospels' story of how these men became apostles and John's later version. In John, they begin following Jesus at the Jordan. In earlier gospels, they meet him in Galilee on the seashore.
"This all happened at Bethany on the other side of the Jordan, where John was baptizing." (John 1:28)
"The next day Jesus decided to leave for Galilee. Finding Philip, he said to him, 'Follow me.'" (John 1:43; emphasis added)
"As Jesus walked beside the Sea of Galilee, he saw Simon and his brother Andrew casting a net into the lake, for they were fishermen." (Mark 1:16)
Now let's discuss Jesus being the lamb of God.
Christian feminist and womanist scholars have written a lot about how Christians have used this kind of language and the myth of redemptive suffering to harm women.
In their well-argued essay For God So Loved the World? Brown and Parker write:
"Women are acculturated to accept abuse. We come to believe that it is our place to suffer . . . Christianity has been a primary—in many women's lives the primary—force in shaping our acceptance of abuse. The central image of Christ on the cross as the savior of the world communicates the message that suffering is redemptive." (in Christianity, Patriarchy and Abuse, p. 1-2)
Mary Daly similarly wrote:
"The qualities that Christianity idealizes, especially for women, are also those of a victim: sacrificial love, passive acceptance of suffering, humility, meekness, etc. Since these are the qualities idealized in Jesus 'who died for our sins,' his functioning as a model reinforces the scapegoat syndrome for women." (Beyond God the Father, p. 77)
One of the key, intrinsically harmful impacts of redemptive suffering theology and it being held up as an example for victims of injustice and/or abuse to follow is that it asks those being harmed to suffer patiently to change the hearts or "redeem" those who are doing them harm. By its very nature, this theological thread puts concern for oppressors and abusers above concern for those being harmed. This can be and has been lethal, and it makes people being harmed the servants of those harming them under the guise of saving oppressors and abusers. (For more, see Christianity, Patriarchy and Abuse, p. 20.)
Delores S. Williams, in her classic Sisters in the Wilderness, offers a special warning for Black women: "African-American Christian women can, through their religion and its leaders, be led passively to accept their own oppression and suffering— if the women are taught that suffering is redemptive." (Sisters in the Wilderness: The Challenge of Womanist God-Talk, p. 161)
Elizabeth Bettenhausen has also written about how men have used a theology that defines Jesus' death as redemptive suffering to impose on women a life of self-sacrifice in imitation of Jesus.
As Jesus followers, Jesus is our example. In his teachings of the Golden Rule and his life of love, Jesus's life models a path for healing our world. And that's why how we interpret Jesus' death matters. If we interpret Jesus' death as redemptive suffering, then his suffering becomes a life model for us even if it means we die in the process at the hands of our oppressors and abusers. It's dangerous. Bettenhausen challenges her readers with an exercise she once shared with her students. Note: this account involves intimate abuse. Feel free to skip it if doing so is better for you.
"Several years ago I asked a group of seminarians to choose New Testament stories about Jesus and rewrite them imagining that Jesus had been female. The following recreation of the passion story of Luke 22:54-65 was one woman's knowing by heart. 'They arrested the Christ woman and led her away to the Council for questioning. Some of her followers straggled along to find out what was to become of her. There were seven women and two men followers. (The men followers were there mainly to keep watch over their sisters.) Someone from among the crowd asked a question of a man follower, 'Haven't I seen you with this woman? Who is she, and what is your relationship with her?' He replied defensively, 'She is a prostitute, she has had many men. I have seen her with many!' The men who were guarding the Christ [woman] slapped her around and made fun of her. They told her to use magic powers to stop them. They blindfolded her and each them in turn raped her and afterward jeered, 'Now, prophetess, who was in you? Which one of us? Tell us that!' Thy continued to insult her. (Kandice Joyce) After this story was read aloud, a silence surrounded the class and made us shiver. Ever since, I have wondered would women ever imagine forming a religion around the rape of a woman? Would we ever conjure gang-rape as a salvific event for other women? What sort of god would such an event reveal?" (in Christianity, Patriarchy and Abuse, p. xi-xii)
That is a question worth asking. Would women have formed a religion around a woman being victimized this way? To be clear, strong arguments can be made that early Jesus communities were led by women (see In Memory of Her by Elisabeth Schüssler Fiorenza). Interpreting Jesus' death as somehow salvific or redemptive was also a later development in the Jesus movement.
As Jesus followers, we are shaped by how we interpret the story elements of the Jesus story, including Jesus' death. If we aren't careful in what we say about Jesus' death, we might tell those being harmed to be patient, that something good will come of their suffering, rather than to stand up for themselves and what is right.
Redemptive suffering theology has devastated the lives of those who suffer abuse, oppression, and injustice. Abuse, oppression and injustice can lead to a lifetime of pain if they're not refused or stood up to. They can destroy a person's sense of worth, dignity, meaning, and value. And some people die because of this. When we interpret Jesus' death as redemptive suffering and then ask abuse survivors to follow that example, we slander those standing up to abuse and injustice and we trivialize the suffering, abuse and injustice of those who are choosing to patiently endure.
How can we reconstruct an understanding of Jesus' death that is life-giving? First, let's understand that this has been a question within Christianity from its very beginning, we aren't alone, and there is also a long history of answers to this question. I want to close this week by amplifying the answer that Brown and Parker offer, and I'll link to the essay these selected statements are gleaned from:
"Jesus did not choose the cross. He chose to live a life in opposition to unjust, oppressive cultures…. Jesus chose integrity and faithfulness, refusing to change course because of threat."
"Suffering is never redemptive, and suffering cannot be redeemed. The cross is a sign of tragedy. God's grief is revealed there and everywhere and every time life is thwarted by violence. God's grief is as ultimate as God's love. Every tragedy eternally remains and is eternally mourned. Eternally the murdered scream, Betrayal. Eternally God sings kaddish for the world. To be a Christian means keeping faith with those who have heard and lived God's call for justice, radical love, and liberation; who have challenged unjust systems both political and ecclesiastical; and who in that struggle have refused to be victims and have refused to cower under the threat of violence, suffering, and death. Fullness of life is attained in moments of decision for such faithfulness and integrity. When the threat of death is refused and the choice is made for justice, radical love, and liberation, the power of death is overthrown. Resurrection is radical courage. Resurrection means that death is overcome in those precise instances when human beings choose life, refusing the threat of death. Jesus climbed out of the grave in the Garden of Gethsemane when he refused to abandon his commitment to the truth even though his enemies threatened him with death. On Good Friday, the Resurrected One was Crucified." (For God So Loved the World?)
"It is not the acceptance of suffering that gives life; it is commitment to life that gives life. The question, moreover, is not Am I willing to suffer? but Do I desire fully to live? This distinction is subtle and, to some, specious, but in the end it makes a great difference in how people interpret and respond to suffering."
For the entire essay see, For God So Loved the World?
HeartGroup Application
1. Share something that spoke to you from this week's eSight/Podcast episode with your HeartGroup.
2. Has the practice of redemptive sacrifice or suffering born harmful fruit in your own experience? If you are comfortable sharing, share your story with your group.
3. What can you do this week, big or small, to continue setting in motion the work of shaping our world into a safe, compassionate, just home for everyone?
Thanks for checking in with us, today.
You can find Renewed Heart Ministries on Twitter, Facebook and Instagram. If you haven't done so already, please follow us on your chosen social media platforms for our daily posts. Also, if you enjoy listening to the Jesus for Everyone podcast, please like and subscribe to the JFE podcast through the podcast platform you use and consider taking some time to give us a review. This helps others find our podcast as well.
And if you'd like to reach out to us through email, you can reach us at info@renewedheartministries.com.
My new book, Finding Jesus: A story of a fundamentalist preacher who unexpectedly discovered the social, political, and economic teachings of the Gospels is now available at renewedheartministries.com
Right where you are, keep living in love, choosing compassion, taking action, and working toward justice.
I love each of you dearly,
I'll see you next week.
---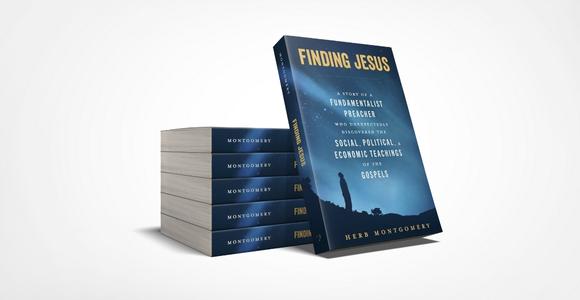 Now Available at Renewed Heart Ministries!
It's here!  Herb's new book Finding Jesus: A story of a fundamentalist preacher who unexpectedly discovered the social, political, and economic teachings of the Gospels, is available at renewedheartministries.com, just in time for the holidays!
Here is just a taste of what people are saying:
"Herb has spent the last decade reading scripture closely. He also reads the world around us, thinks carefully with theologians and sociologists, and wonders how the most meaningful stories of his faith can inspire us to live with more heart, attention, and care for others in our time. For those who've ever felt alone in the process of applying the wisdom of Jesus to the world in which we live, Herb offers signposts for the journey and the reminder that this is not a journey we take alone. Read Finding Jesus with others, and be transformed together." Dr. Keisha Mckenzie, Auburn University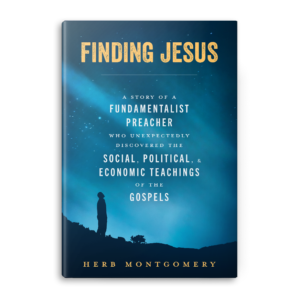 "In Finding Jesus, Herb Montgomery unleashes the revolutionary Jesus and his kin-dom manifesto from the shackles of the domesticated religion of empire.  Within these pages we discover that rather than being a fire insurance policy to keep good boys and girls out of hell, Jesus often becomes the fiery enemy of good boys and girls who refuse to bring economic justice to the poor, quality healthcare to the underserved, and equal employment to people of color or same-sex orientation.  Because what the biblical narratives of Jesus reveal is that any future human society—heavenly or otherwise—will only be as  good as the one that we're making right here and now. There is no future tranquil city with streets of gold when there is suffering on the asphalt right outside our front door today.  Finding Jesus invites us to pray 'thy kingdom come, thy will be done on earth as it is in heaven' on our feet as we follow our this liberator into the magnificent struggle of bringing the love and justice of God to all—right here, right now."—Todd Leonard, pastor of Glendale City Church, Glendale CA.
"Herb Montgomery's teachings have been deeply influential to me. This book shares the story of how he came to view the teachings of Jesus through the lens of nonviolence, liberation for all, and a call to a shared table. It's an important read, especially for those of us who come from backgrounds where the myth of redemptive violence and individual (rather than collective) salvation was the focus." – Daneen Akers, author of Holy Troublemakers & Unconventional Saints and co-director/producer of Seventh-Gay Adventists: A Film about Faith, Identity & Belonging
"So often Christians think about Jesus through the lens of Paul's theology and don't focus on the actual person and teachings of Jesus. This book is different. Here you find a challenging present-day application of Jesus' teachings about the Kingdom of God and the Gospel. Rediscover why this Rabbi incited fear in the hearts of religious and political leaders two millennia ago. Herb's book calls forth a moral vision based on the principles of Jesus' vision of liberation. Finding Jesus helps us see that these teachings are just as disruptive today as they were when Jesus first articulated them." Alicia Johnston, author of The Bible & LGBTQ Adventists.
"Herb Montgomery is a pastor for pastors, a teacher for teachers and a scholar for scholars. Part memoir and part theological reflection, Finding Jesus is a helpful and hope-filled guide to a deeper understanding of who Jesus is and who he can be. Herb's tone is accessible and welcoming, while also challenging and fresh. This book is helpful for anyone who wants a new and fresh perspective on following Jesus."— Traci Smith, author of Faithful Families
Get your copy today at renewedheartministries.com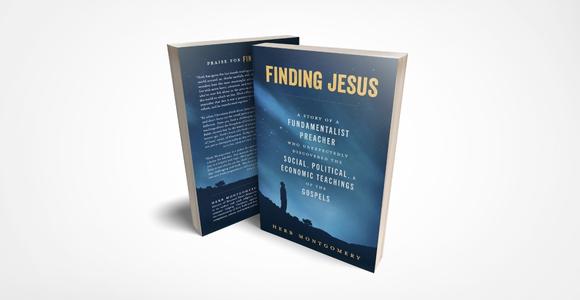 ---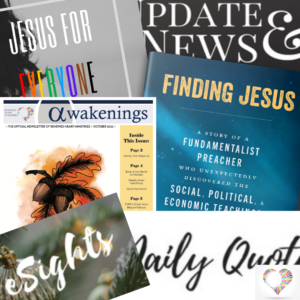 Are you receiving all of RHM's free resources each week?
Begin each day being inspired toward love, compassion, action, and justice. Free Sign-Up HERE.