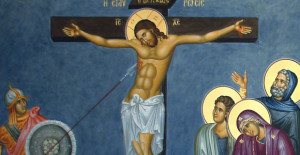 by Herb Montgomery
"You do not understand that it is better for you to have one man die for the people than to have the whole nation destroyed."—Caiaphas (John 11.50)
Substitute the word "tortured" in place of the word "die" in the above passage and you've got quite a provocative story.
I'm presently alarmed at hearing how many Christians are justifying America's use of torture, saying things like, "They did what they had to do to protect the American nation."
The first time I heard those words, the words of Caiaphas rang in my ears. This mentality, this logic, this philosophy, this way of reasoning should be the last for any follower of Jesus, for it was this way of reasoning that led to the death of our Lord. It's this reasoning that killed Jesus.
It's this line of reasoning that led to the torturing of your Jesus. It's this line of reasoning that led to your Jesus being bound and "blindfolded," made to stand within a circle of men and guards who "spat in his face," "slapped him" repeatedly, "struck" him, shouting "insults," tauntingly endeavoring to intimidate him by asking him over and over to tell them, "Who struck you?"[1] And this was only by the ecclesiastical structure.
Jesus was charged with suspicion of insurrection[2] against the Roman Empire and then turned over to a group of Roman soldiers who had no knowledge of the preceding case. The soldiers didn't know Pilate believed he was innocent. If Jesus was standing before them he must have been guilty, and they were required to follow orders. After all, the peace of Rome (the Pax Romana, Rome's national interests) was at stake!
So the military soldiers of the Roman Empire did to Jesus what they did to all suspected insurgents. (Remember that torture and crucifixion was reserved for the political enemies of Rome.)
The whole cohort of military soldiers was gathered around Jesus. They "stripped" him and made him stand naked in front of them all. After they chained him to a post and tortured him, they dressed this insurgent in the royal garb of an opposing empire. Then they taunted him, spat in his face and struck him repeatedly upon his wounds. [3]
Then they led him away to be torturously executed.
Yes, it's ugly to consider—but this, the torture of your Jesus, is where your philosophy that torture is necessary to protect national interests leads.
The resurrection of Jesus is God's critique of Caiaphas' justification of using violence, including torture, for the purpose of protecting national interests ("Better for one man to die than the whole nation destroyed"—John 11.50). When Jesus died as a result of Caiaphas' methodology, the entire philosophy of justifying violence for national preservation was unmasked. By God resurrecting Jesus, God is, once and for all, unequivocally critiquing the way of the empire, torturing suspected threats included. The resurrection locates God within the narrative. God was not with Caiaphas, protecting Jewish national interests. God was not with Herod, protecting economic interests of the wealthy. God was not with Pilate, protecting Roman imperial interests. The resurrection reveals that God was in the one shamefully tortured and suspended on a tree at the orders of superiors and at the hands of those who were simply following the chain of command. The resurrection is God's action over and against the torture and death of Jesus as a necessary evil for national security. In the resurrection, God undoes and reverses the torture and death of Jesus and makes known for all to acknowledge, "I'm in solidarity with this one whom you tortured."[4]
The narrative of the death and resurrection of Jesus is saying to us that this entire philosophy is flawed, for if even God were to show up and be perceived as potential threat, a suspected insurgent, even with due process, the system would torture and murder God, too.
As Mark Van Steenwyk recently stated, "In case Christians need reminding, we worship a suspected Middle Eastern insurgent who was tortured."
It is always the fear of a foreign threat that drives the methodology of violence, including torture. In the 16th century, it was fear of the Turks taking over Europe that led to the torture and murder of the Anabaptists who spoke out against violence in the name of national interest. In Jesus' day, it was fear of the Romans that caused Jesus' Jewish audience to reject his critique of violence. In our time, Martin Luther King Jr. was quickly assassinated when he added a critique of the use of violence for the protection of national interests in Vietnam to his platform of racial equality. Gandhi, too, was murdered when his nonviolence was seen as no longer a tool for national interest, but as a threat. It was this fear of foreign threat that has also radically changed the face of Christianity for the last 1,700 years.
Let me tell you a story. For the first 300 years of Christianity, Jesus' followers were a nonviolent people who felt it was better to have their own blood shed than to have their hands stained with the blood of another. As Christianity began to exponentially grow, this became a problem to the Roman Empire in the fourth century—for if everyone became a Jesus follower and embraced Jesus' teachings on nonviolence, who, then, would protect the national interests of Rome against foreign threats? Everyone would become a noncombatant.
Thus began the long and much disputed history of the Constantinian shift within Christianity, where Christianity simply became the tool of the empire.
But let's imagine for a moment that the national interests of Rome in the fourth century had never compromised Christianity. As Christianity continued to grow, more and more Roman citizens would have embraced Jesus' teachings on nonviolence.  Rome would have eventually fallen to foreign invaders. But the Christians would still have been present, and they would have continued to grow exponentially. Eventually, the new foreign empire would be facing the same challenges to its national interests that Rome had faced and would fall to its foreign threat. But, again, the Christians would still be present and still continue to grow. The third empire coming in contact with these Christians would eventually, too, be facing the same dilemmas.  This history would be repeated over and over, until, eventually, you would run out of empires, and Jesus' new world would have been the last one standing.  All empires and national interests (beasts and dragons; see the book of Revelation) would have been overcome by a Lamb—not by a sword, but by a cross.
Would many Christians have died in the process? Absolutely. Yet they would have died with the hope of a resurrection into this new world once it became unobstructed. This is why Jesus emphatically said that the way we are going to change the world is through crosses not swords. Remember, crosses were only used by Rome for those suspected of being a threat to her nation interests.
"Then Jesus told his disciples, 'If any want to become my followers, let them deny themselves and take up their cross and follow me.'" (Matthew 16.24, emphasis added.)
"Whoever does not carry the cross and follow me cannot be my disciple." (Luke 14.27, emphasis added.)
What does this all mean to American Christians today?
What if America, like Rome, has to fail for Jesus' New World to succeed? Which allegiance would you choose? Would you remain a Jesus follower, or would your American patriotism and the protection of America's national interests be of greater value? In other words, would you give up being an American to follow the ethical teachings of Jesus?
As Jesus followers, we are to call the nations to embrace the new world that has been founded by this Jesus.[5] When his followers historically have genuinely followed Jesus' teachings, they have always been seen as a threat to the national interests of whichever empire they were living amidst. They were accused of turning society "upside down, " as acting "contrary" to the interests of the Roman "empire."[6] Rather than calling Caesar "Lord," they proclaimed Jesus was "Lord." (Acts 16.31.) Rather than calling Caesar "King" and "Son of God," they proclaimed Jesus as "King" and "Son of God." (Acts 17.5–7, 9.20.) Rather than justifying actions for the preservation of the "Pax Romana" (Peace through Rome), they proclaimed the "Pax Jesus Christo" (Peace through Jesus Christ). (Acts 10.36.) The refused to subscribe to Rome's propaganda as being the "Savior of the World," but instead proclaimed Jesus as the "Savior of the World." (1 John 4.14.)
For all of these reasons, Jesus followers should be the last to justify the use of torture by any nation to protect that nation's national interests. Not only was our Lord tortured and killed as a result of this way of reasoning, but Jesus also said we, as those who announce the new world founded by Jesus, we would also be seen as threats to our respective national interests, and tortured and killed as well.
"Then they will hand you over to be tortured and will put you to death, and you will be hated by all nations because of my name." (Matthew 24.9, emphasis added.)
Please, my fellow Christians here in America, stop justifying America's use of torture.
"Love your enemies."—Jesus, The Gospel of Matthew
"In everything do to others as you would have them do to you."—Jesus, The Gospel of Matthew
Till the only world that remains is a world where love reigns …
I love each of you.
I'll see you next week.
1. "Then they spat in his face and struck him; and some slapped him, saying, 'Prophesy to us, you Messiah! Who is it that struck you?'" (Matthew 26. 67–68.)
"Some began to spit on him, to blindfold him, and to strike him, saying to him, 'Prophesy!' The guards also took him over and beat him." (Mark 14.64–65.)
"Now the men who were holding Jesus began to mock him and beat him; they also blindfolded him and kept asking him, 'Prophesy! Who is it that struck you?' They kept heaping many other insults on him." (Luke 22.63–65.)
"When he had said this, one of the police standing nearby struck Jesus on the face, saying, 'Is that how you answer the high priest?'" (John 18.22.)
2. "But they were insistent and said, 'He stirs up the people by teaching throughout all Judea, from Galilee where he began even to this place.'" (Luke 23.5.)
3.  "Then the soldiers of the governor took Jesus into the governor's headquarters, and they gathered the whole cohort around him. They stripped him and put a scarlet robe on him, and after twisting some thorns into a crown, they put it on his head. They put a reed in his right hand and knelt before him and mocked him, saying, 'Hail, King of the Jews!' They spat on him, and took the reed and struck him on the head. After mocking him, they stripped him of the robe and put his own clothes on him. Then they led him away to crucify him." (Matthew 27.27–31.)
"Then the soldiers led him into the courtyard of the palace (that is, the governor's headquarters); and they called together the whole cohort. And they clothed him in a purple cloak; and after twisting some thorns into a crown, they put it on him. And they began saluting him, 'Hail, King of the Jews!' They struck his head with a reed, spat upon him, and knelt down in homage to him. After mocking him, they stripped him of the purple cloak and put his own clothes on him. Then they led him out to crucify him." (Mark 15.16–20.)"
"And the soldiers wove a crown of thorns and put it on his head, and they dressed him in a purple robe. They kept coming up to him, saying, 'Hail, King of the Jews!' and striking him on the face." (John 19.2–3.)
4.  "Jesus of Nazareth, a man attested to you by God with deeds of power, wonders, and signs that God did through him among you, as you yourselves know—this man, given to you according to the definite plan and purpose of God, you crucified and killed by the hands of those outside the law. But God raised him up, having freed him from death, because it was impossible for him to be held in its power." (Acts 2.22–24.)
"This Jesus God raised up, and of that all of us are witnesses. Being therefore exalted at the right hand of God, and having received from the Father the promise of the Holy Spirit, he has poured out this that you both see and hear." (Acts 2.32–33.)
"Therefore let the entire house of Israel know with certainty that God has made him both Lord and Messiah, this Jesus whom you crucified." (Acts 2.36.)
"The God of Abraham, the God of Isaac, and the God of Jacob, the God of our ancestors, has glorified his servant Jesus, whom you handed over and rejected in the presence of Pilate, though he had decided to release him. But you rejected the Holy and Righteous One and asked to have a murderer given to you, and you killed the Author of life, but God raised from the dead. To this we are witnesses. And by faith in his name, his name itself has made this man strong, whom you see and know; and the faith that is through Jesus has given him this perfect health in the presence of all of you." (Acts 3.12–16.)
"Let it be known to all of you, and to all the people of Israel, that this man is standing before you in good health by the name of Jesus Christ of Nazareth, whom you crucified, but whom God raised from the dead. This Jesus is 'the stone that was rejected by you, the builders; it has become the cornerstone.'" (Acts 4.10–11.)
"The God of our ancestors raised up Jesus, whom you had killed by hanging him on a tree. God exalted him at his right hand as Founder and Savior." (Acts 5.30–32.)
"You know the message he sent to the people of Israel, preaching peace by Jesus Christ—he is Lord of all. That message spread throughout Judea, beginning in Galilee after the baptism that John announced: how God anointed Jesus of Nazareth with the Holy Spirit and with power; how he went about doing good and healing all who were oppressed by the devil, for God was with him. We are witnesses to all that he did both in Judea and in Jerusalem. They put him to death by hanging him on a tree; but God raised him on the third day." (Acts 10.36–43.)
"Even though they found no cause for a sentence of death, they asked Pilate to
have him killed. When they had carried out everything that was written about him, they took him down from the tree and laid him in a tomb. But God raised him from the dead; and for many days he appeared to those who came up with him from Galilee to Jerusalem, and they are now his witnesses to the people. And we bring you the good news that what God promised to our ancestors he has fulfilled for us, their children, by raising Jesus." (Acts 13.23–38.)
5.  "Jesus came and said to them, 'All authority in heaven and on earth has been given to me. Go therefore and make disciples of all the nations.'" (Matthew 28.18–17, emphasis added.)
"That night the Lord stood near him and said, 'Keep up your courage! For just as you have testified for me in Jerusalem, so you must bear witness also in Rome.'" (Acts 23.11, emphasis added.)
"Then I saw another angel flying in midheaven, with an eternal gospel to proclaim to those who live on the earth—to every nation and tribe and language and people." (Revelation 14.6, emphasis added.)
"Great and amazing are your deeds, Lord God the Almighty! Just and true are your ways, King of the nations! Lord, who will not fear and glorify your name? For you alone are holy. All the nations will come and worship before you, for your judgments have been revealed." (Revelation 15.3–4, emphasis added.)
"To him was given dominion and glory and kingship, that all the peoples, the nations, and the languages should serve him. His dominion is an everlasting dominion that shall not pass away, and his kingship is one that shall never be destroyed." (Daniel 7.13–14, emphasis added.)
"I saw no temple in the city, for its temple is the Lord God the Almighty and the Lamb … the nations will walk by its light, and the kings of the earth will bring their glory into it. Its gates will never be shut by day—and there will be no night there. People will bring into it the glory and the honor of the nations. … On either side of the river is the tree of life with its twelve kinds of fruit, producing its fruit each month; and the leaves of the tree are for the healing of the nations." (Revelation 21.22–22.2, emphasis added.)
6.  "While they were searching for Paul and Silas to bring them out to the assembly, they attacked Jason's house. When they could not find them, they dragged Jason and some believers before the city authorities, shouting, 'These people who have been turning the world upside down have come here also, and Jason has entertained them as guests. They are all acting contrary to the decrees of the emperor, saying that there is another king named Jesus.'" (Acts 17.5–7, emphasis added.)