Herb Montgomery | December 20, 2019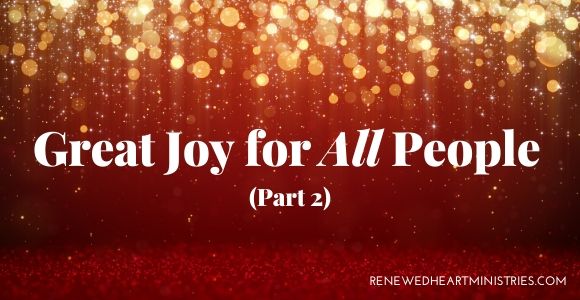 ---
"Luke skillfully integrates into his story the hopes of Judaism and the subversion of the political theology of the Roman Empire. Jesus, for Luke, is simultaneously the fulfillment of one (Judaism) and the subversion of the other (Rome). This is not Jesus against Judaism, but Christianity against Roman imperialism . . . In Luke's birth-narrative, Jesus is both the Davidic Messiah who converges with Judaism and the Lord, Savior, and Peace-bringer who diverges with Rome."
---
We're picking up where we left off in Part 1.
Judaism in Imperial Rome
Living in Roman-occupied territory, Jewish people hoped for a world free from injustice and foreign oppression. In the Jewish Sibylline Oracles, a series of prophecies valued within first-century Judaism and early Christianity, we find this vision:
"The earth will belong equally to all, undivided by walls or fences. It will then bear more abundant fruits spontaneously. Lives will be in common and wealth will have no division. For there will be no poor man there, no rich, and no tyrant, no slave. Further, no one will be either great or small anymore. No kings, no leaders. All will be on a par together." (2:319-324)
The hoped-for world in the Jewish vision of the future looked like a family, where YHWH as parent provided equally for all—enough for everyone, always.
There were also two competing visions of the fate of the Gentiles, including the Romans. One strand was violent and retributive:
"In anger and wrath I will execute vengeance on the nations that did not obey . . . Then my enemy will see, and shame will cover her who said to me, 'Where is the Lord your God?' My eyes will see her downfall; now she will be trodden down like the mire of the streets . . . The nations shall see and be ashamed of all their might; they shall lay their hands on their mouths; their ears shall be deaf; they shall lick dust like a snake, like the crawling things of the earth; they shall come trembling out of their fortresses; they shall turn in dread to the Lord our God, and they shall stand in fear of you." (Micah 5:15; 7:10, 16-17)
This is actually quite mild compared to some Christian versions of this world's future. The other Jewish option was less violent, more restorative, and involved the conversion of the Gentiles:
"In days to come the mountain of the Lord's house shall be established as the highest of the mountains, and shall be raised up above the hills. Peoples shall stream to it, and many nations shall come and say: 'Come, let us go up to the mountain of the Lord, to the house of the God of Jacob; that he may teach us his ways and that we may walk in his paths.' For out of Zion shall go forth instruction and the word of the Lord from Jerusalem. He shall judge between many peoples, and shall arbitrate between strong nations far away; they shall beat their swords into plowshares, and their spears into pruning hooks; nation shall not lift up sword against nation, neither shall they learn war any more; but they shall all sit under their own vines and under their own fig trees, and no one shall make them afraid; for the mouth of the Lord of hosts has spoken." (Micah 4:1-3, cf. Isaiah 2:2-4)
All injustice, oppression, and violence would cease. Other prophets also envision YHWH providing a rich feast where there was enough for all, Jew and Gentile alike:
"On this mountain, the Lord of hosts will make for all peoples a feast of rich food, a feast of well-aged wines, of rich food filled with marrow, of well-aged wines strained clear. And he will destroy on this mountain the shroud that is cast over all peoples, the sheet that is spread over all nations; he will swallow up death forever. Then the Lord God will wipe away the tears from all faces, and the disgrace of his people he will take away from all the earth, for the Lord has spoken." (Isaiah 25:6-8)
By the 1st Century, this Jewish, pre-Christian vision also included a Messiah figure who would birth this new world into existence:
"Raise up for them their king, the Son of David . . . to smash the arrogance of sinners like a potter's jar; to shatter all their substance with an iron rod; to destroy the unlawful nations with the word of his mouth . . . He will judge peoples and nations in the wisdom of his righteousness . . . All shall be holy, and their king shall be the Lord Messiah. (For) he will not rely on horse and rider and bow, nor will he collect gold and silver for war. Nor will he build up hope in a multitude for a day of war." (Psalms of Solomon 17:21, 23-24, 29, 32-33, emphasis added.)
Another example is from a Dead Sea Scroll fragment found in Cave 4 at Qumran:
"He will be called Son of God, and they will call him Son of the Most High. Like sparks of a vision, so will their kingdom be; they will rule several years over the earth and crush everything; a people will crush another people, and a city another city. Until the people of God arises [or: until he raises up the people of God] and makes everyone rest from the sword. His kingdom will be an eternal kingdom, and all his paths in truth and uprightness. The earth will be in truth and all will make peace. The sword will cease in the earth, and all the cities will pay him homage. He is a great god among the gods [or: The great God will be his strength]. He will make war with him; he will place the peoples in his hand and cast away everyone before him. His kingdom will be an eternal kingdom . . . " (4Q246, emphasis added.)
We can see from these passages that when the book of Luke was written, many within Judaism hoped for a restored world where all injustice, violence, and oppression would be made right through the emergence of a Messiah figure. Some believed this would be accompanied by violent retribution against oppressors, and others believed the Messiah figure would bring more restorative, distributive, nonviolent, and reconciling justice for everyone.
Christianity within Judaism within Roman Imperialism
Luke begins the Jesus story with John the Baptist. Like Matthew, he includes a birth narrative rather than starting the story with an adult Jesus. But Luke begins his birth story with John's conception, before Jesus's. The experience of John's parents in Luke parallels that of Abraham and Sarah, the patriarch and matriarch of the Jewish people (compare Genesis 15-18).
It also parallels the stories of Hannah and the birth of the prophet Samuel, who anointed King David (read 1 Samuel 1-2). For Luke, John is the renewed "Samuel" anointing Jesus, the renewed "David." At his baptism in the river Jordan, Jesus, through John, becomes the renewed "anointed one."
Miraculous conceptions by divine intervention are a staple in Jewish birth-narratives and were especially so in the time of Rome. Within both Judaism and Imperial Rome, birth-narratives were not so much biological explanations as much as they were about the destiny of the children being born. In our story this week, Luke interweaves the birth-narratives of Isaac, Samuel, and Caesar Augustus with those of John the Baptist and Jesus, and he describes Jesus as "the Christ," the Messiah, the son of David, the renewed "King of Israel" born in David's city, "Bethlehem."
Let's read Luke's proclamation of the angels to the shepherds through our filters of Judaism and Roman imperialism. Luke skillfully integrates into his story the hopes of Judaism and the subversion of the political theology of the Roman Empire. Jesus, for Luke, is simultaneously the fulfillment of one (Judaism) and the subversion of the other (Rome). This is not Jesus against Judaism, but Christianity against Roman imperialism.
I'm going to color code this Christmas passage:
Bold phrases represent the fulfillment of Jewish hopes and Italics represent a subversion of Roman imperialism. Black and Italicized phrases represent both.
"But the angel said to them, "Do not be afraid. I bring you good news that will cause great joy for all the people. Today in the town of David a Savior has been born to you; he is the Messiah, the Lord. This will be a sign to you: You will find a baby wrapped in cloths and lying in a manger." Suddenly a great company of the heavenly host appeared with the angel, praising God and saying, "Glory to God in the highest heaven, and ON EARTH PEACE to those on whom his favor rests." ( Luke 2:10-14)
In Luke's birth-narrative, Jesus is both the Davidic Messiah who converges with Judaism and the Lord, Savior, and Peace-bringer who diverges with Rome.
As Borg and Crossan state in The First Christmas, from the time of Caesar Augustus onward, the title "the Lord" meant the emperor, just as "der Führer" meant "the leader" in German. Eventually, that term designated Adolf Hitler as Germany's supreme and only leader. In that context, to have called Christ "der Führer" would have meant death in Dachau (p. 154).
Rome also had its own gospel of peace that Luke responds to in his version of the Jesus story.
By 9 BCE, the Roman province of Asia Minor was making this declaration about Augustus:
"Since the providence that has divinely ordered our existence has applied her energy and zeal and has brought to life the most perfect good in Augustus, whom she filled with virtues for the benefit of mankind, bestowing him upon us and our descendants as a savior—he who put an end to war and will order peace, Caesar, who by his epiphany exceeded the hopes of those who prophesied good tidings [euaggelia-the gospel], not only outdoing benefactors of the past, but also allowing no hope of greater benefactions in the future; and since the birthday of the god first brought to the world the good tidings [euaggelia] residing in him… For that reason, with good fortune and safety, the Greeks of Asia have decided that the New Year in all the cities should begin on 23rd September, the birthday of Augustus… and that the letter of the proconsul and the decree of Asia should be inscribed on a pillar of white marble, which is to be placed in the sacred precinct of Rome and Augustus." (Quoted from The First Christmas, p.160, emphasis added)
That year, a magnificent "Altar of Peace" was dedicated in Rome's Campus Martius. It was consecrated not just to the Pax Romana (peace of Rome) but, more precisely, to the Pax Augustana (peace of Augustus), and it was named Ara Pacis Augustae, the Altar of Augustan Peace.
The gospel of peace that Rome proclaimed was a peace achieved through militaristic victory and the violent overthrow of Rome's enemies. In Luke's gospel narrative, however, Luke channels nonviolent, restorative Jewish visions of peace. Luke's Jesus shares the vision of peace on earth rooted in the restoration of justice for all the oppressed. Even Luke's choice to describe shepherds as the first recipients of this angelic announcement is significant. Shepherds were from the marginalized peasant class and most acutely experienced Roman oppression and exploitation. Just two chapters after the birth narrative, Luke's Jesus is announcing "good news to the poor," "release to the captives," and "sight to those with prison blindness." He has come "to let the oppressed go free" (see Luke 4:18). The angels' message to the poor shepherds in Luke 2 foreshadows Jesus' entire message in the gospel of Luke.
For Luke, Rome's peace gospel (through violence) and the peace gospel of Jesus (through distributive justice) come face to face. Jesus and Rome hold out to humanity two alternative visions for arriving at peace on earth. Rome's way, peace through the violent forces of militaristic victory and oppression, is the way of all empires. Luke's Jesus promises peace through nonviolent, restored distributive justice for all people.
Marcus Borg and Dominic Crossan write: "The terrible truth is that our world has never established peace through victory. Victory establishes not peace, but lull. Thereafter, violence returns once again, and always worse than before. And it is that escalator violence that then endangers our world" (The First Christmas, p. 166).
The world has yet to see if choosing the way of nonviolently-achieved, distributive-justice of Jesus produces lasting peace. Christian imperialism and colonialism have co-opted the Jesus story throughout history, but Luke's Jesus points the way to peace based upon distributive justice achieved through nonviolent means.
Today, these two "gospels" still grind against one another, even for Christians. Today we still see a conflict, but it is not Rome versus Jesus, too often it is certain sectors of Christianity versus Jesus.
Luke's Christmas story offers more than a private peace of mind for Christians. It points to a path to peace on earth for everyone, and a peace that comes through distributive justice for all, especially those marginalized in the present system. In our next and final installment of this holiday series, we'll consider this further.
For this week, it's enough to ponder the words:
"Do not be afraid. I bring you good news that will cause great joy for all the people." (Luke 2:11-14)
HeartGroup Application
This week as you gather together before Christmas, take some time to go around the room and say something you appreciate or value about each person.
Next, share with your group something you are grateful for from 2019. Take time to celebrate and be thankful together as this year comes to a close.
Share something you are hopeful for or looking forward to in the coming year.
Thanks for checking in with us this week.
Wherever you are, keep choosing love, compassion, taking action, and reparative and distributive justice.
Another world is possible if we choose it.
Also, all year-end donations to Renewed Heart Ministries are being matched dollar for dollar. Through this generous offer, you can make your year-end gift go twice as far as we move into the next decade. Also, we are offering a special thank you gift to all our sustaining partners for the coming year. To find out more and how you too can become a sustaining partner go to renewedheartministries.com and click the Shared Table Fundraiser image.
Happy holidays to all of you.
I love each of you dearly.
I'll see you in the new year.