Herb Montgomery | December 18, 2020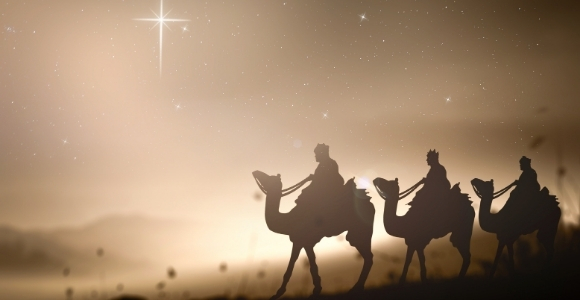 ---
"Notice that, for their first audiences, the stories of Jesus were not Christian stories about getting to heaven. These were stories deeply rooted in the concrete liberation hopes and realities people were facing . . . These stories are political. They are rooted in the hunger of an oppressed people for social justice. They are about concrete liberation from injustice, both systemic and private, in the here and now, and that is to be our focus as Jesus followers, too."
---
Matthew's version of the Advent narratives begins with this note:
"After Jesus was born in Bethlehem in Judea, during the time of King Herod, Magi from the east came to Jerusalem." (Matthew 2:1)
This month's recommended reading from Renewed Heart Ministries is The Liberation of Christmas: The Infancy Narratives in Social Context by Richard A. Horsley. Horsley identifies the Magi as the highest-ranking political and religious advisers of the Medean emperor and the Persian imperial court. Their religious role was meant to maintain what was believed to be a divinely given imperial order: even their religious purpose was for political ends. The Magi were priestly assistants to the Great King of the Persian Empire—the King of Kings, who was believed to be the divine ruler on earth. Tertullian tells us that "the East considers the Magi almost as kings" themselves (Against Marcion, 3:13).
One of their royal roles would have been to cultivate knowledge of the cosmos and cosmic events, including observing any unusual occurrences in the heavens, and interpreting the divine will or order of things to the king.
That the Magi are in Matthew's advent story at all is significant. It's about much more than the inclusion of Gentiles in salvation, salvation that the child they came to see would bring.
What are the implications including the Magi here?
Persia was Rome's enemy at this time, and the Magi advised the Eastern kings. The Magi, therefore, represented the East in the East-West conflict between Rome and Persia. The Magi were also present at the birth of the Persian King Cyrus who had liberated the Jewish people in the 6th Century BCE (see Isaiah 45) So Matthew including the Magi in his story about Jesus had both international political and religious implications for Rome.
Remember, one of the purposes of Matthew's advent narrative was to subvert the Roman imperialism subjugating the Jewish people. His story includes Rome's international enemies, and they, as they were for Cyrus, are present at this little liberator's birth. Matthew's audience would have recognized their presence as a sign that this baby was allied with Rome's enemies. The baby's overthrow of Roman oppression would have been good news (gospel) to Rome's enemies as well. Matthew's story takes political sides against Rome by including the Magi.
"After Jesus was born in Bethlehem in Judea, during the time of King Herod, Magi from the east came to Jerusalem and asked, 'Where is the one who has been born king of the Jews? We saw his star when it rose and have come to worship him.' When King Herod heard this he was disturbed, and all Jerusalem with him." (Matthew 2:1-4)
Three elements of this section will help us understand Matthew's story more clearly.
Herod
The phrase, "King of the Jews"; and
The disturbance of "all Jerusalem"
As we discussed last week, Herod was Rome's client king for the Jewish people. Herod economically crushed the Jewish common people, piling on to the already oppressive Roman tax burden people faced in his area and threatening violence from a large, heavily armed militia if they resisted. Herod extracted heavy tributes for extensive building projects aimed to pay homage to Caesar. And he was intensely efficient at crushing uprisings and rebellions against his oppressive policies. He slaughtered people extensively, and life under him meant exploitation and tyranny for the Jewish peasantry: Herod economically bled his people and country dry, and the peasantry cried out day and night for relief from helpless and hopeless poverty. For many, Herod was synonymous with Roman oppression.
The phrase King of the Jews, used in reference to Jesus, has had a long and very harmful anti-Semitic history in Christianity, just as the term Messiah has.
Originally, Jewish liberation movements used the phrase "king of the Jews." Jewish people didn't then have a standardized or generally held expectation of a "messiah," as the term is understood by Christians today. Messiah means "the one who is anointed." Just like David was anointed by Samuel the prophet, "the anointed one" was anointed to become a king. At the time of Matthew's story, a common hope among the many and varied Jewish liberation movements was that a king, like David of old, would rise up and liberate the Jewish people from their suffering under Rome. It was simply an expression of the broader hope of the people to be liberated from foreign rule.
This is the only context I believe helpful for understanding why the gospels use the phrase "king of the Jews" in reference to Jesus in the gospels. The community of the gospels was yet another oppressed Jewish community hoping for concrete liberation. For the gospels to call Jesus Messiah, king of the Jews, or anointed one is to simply refer to their Jesus as a liberator from oppression just as every other liberation movement of this time had their king, anointed one, or liberator. But we must leave these phrases in their own social context if we are to avoid Christianizing them into the harmful antisemitic beliefs and practices of supersessionism, the belief that the Christian church has replaced Jewish people and Judaism.
Why might "all Jerusalem" have been disturbed by the Magi's declaration?
Judea was an agrarian society. Agrarian societies could be headed politically and economically by a fortified city where the rulers lived. This kind of agrarian society benefited and privileged the city rulers with a privileged, secure lifestyle with attendants yet at the expense of the peasant farm workers outside the city. The rulers typically owned the farmland outside the city, too.
That was the situation in ancient Judea. Judean society took the form of a Temple-state centered in Jerusalem and headed by a priestly aristocracy and their retainers such as the scribes. To the best of our knowledge today, this priestly aristocracy was comprised of four families who were appointed to their powerful positions by Herod and therefore Rome. The priestly aristocracy was the elite and powerful who were politically tied to Herod's success.
When Matthew's narrative says "all Jerusalem" was disturbed, I don't believe he was saying all the Jewish population of Jerusalem. That interpretation blames Jews for Jesus' later execution. No. "All Jerusalem" is more similar to what we here in the U.S. might say: that all D.C. was disturbed. We wouldn't be talking about the taxi drivers but we'd be talking about those in political positions of power and privilege and their attendants who would have much to lose from a change in the status quo. Horsely again states, "'All Jerusalem' would have been the ruling city that politically dominated and economically exploited the rest of the people" (Ibid. p. 50). The elite in power because of Herod's position would have been deeply disturbed by any threat of change to Herod's situation and thus their own.
What does this have to do with us today?
Notice that, for their first audiences, the stories of Jesus were not Christian stories about getting to heaven. These were stories deeply rooted in the concrete liberation hopes and realities people were facing. Matthew borrows from the original Exodus narratives at certain places in his advent story because, just like the Exodus story, Matthew's story is about our concrete real world, oppression in this life, here and now, and tangible hopes of liberation.
How do the ethics, values, and teachings that we find in the Jesus stories guide us to impact our real world in concrete ways as agents of action? How do they inspire us to shape our world into a safer, just, compassionate home for everyone? Are we, unlike these advent stories, just focused on an afterlife, post-mortem heaven, or escaping to bliss beyond? Or are we, like these stories, engaging the real harm being committed against vulnerable populations and communities in our society today? How much does our following Jesus align with these stories? How aligned is our Christianity with the this-life focus and liberation of Jesus?
These stories are political. They are rooted in the hunger of an oppressed people for social justice. They are about concrete liberation from injustice, both systemic and private, in the here and now, and that is to be our focus as Jesus followers, too.
This focus becomes even more pointed when we get to Luke's advent narratives.
We'll take a look at those next week.
HeartGroup Application
We at RHM are continuing to ask all HeartGroups not to meet together physically at this time. Please stay virtually connected and practice physical distancing. When you do go out, please keep a six-foot distance between you and others, wear a mask, and continue to wash your hands to stop the spread of the virus.
This is also a time where we can practice the resource-sharing and mutual aid found in the gospels. Make sure the others in your group have what they need. This is a time to work together and prioritize protecting those most vulnerable among us.
1. Share something that spoke to you from this week's eSight/Podcast episode with your HeartGroup.
2. This year's Christmas holiday is filled with harsh realities for many in the U.S.  Discuss with your HeartGroup what you can do, together, to mitigate some portion of that harm for someone this holiday season. Pick something from the discussion for your group to do together in this final week leading up to Christmas.
3. What can you do this week, big or small, to continue setting in motion the work of shaping our world into a safe, compassionate, just home for everyone?
Thanks for checking in with us, today.
Right where you are, keep living in love, choosing compassion, taking action, and working toward justice.
I love each of you dearly,
I'll see you next week
---