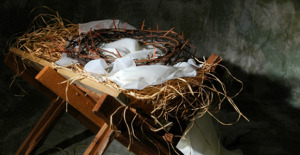 "All this took place to fulfill what had been spoken by the Lord through the prophet: 'Look, the virgin shall conceive and bear a son, and they shall name him Emmanuel'" (Matthew 1.22–23).
This week I'd like to continue our liberation theme during this Advent season with one of the most controverted elements of the Jesus story. But before you put on your post-modern, naturalist worldview glasses, I'm asking you to put on your liberation from the pyramid of oppression and privilege spectacles instead. In other words, I'm asking you not to look first at what has come to be called "the virgin birth" scientifically, but to look at the "virgin birth" sociologically, first within the context in which the original audience of Matthew would have read it. What is the story truth here?
Matthew, writing largely for a Galilean audience, with a Galilean apologetic flavor, is here referring to a passage in accord with the Jewish culture of that time. Matthew reaches back into the Advocacy/Liberation God of the book of Isaiah, and here draws our attention to the words of Isaiah when Assyria was about to lay waste to Israel.
Then Isaiah said: "Hear then, O house of David! Is it too little for you to weary mortals, that you weary my God also? Therefore the Lord himself will give you a sign. Look, the young woman is with child and shall bear a son, and shall name him Immanuel" (Isaiah 7.13).
The name "Immanuel," within this context, communicated that even though Israel was headed into a time of being deeply oppressed, they were not to lose hope. A God who would liberate them (much like the God of the Exodus narrative) was "with them." Immanuel is a name given to a people within the context of the oppression/oppressor dynamic. Oppressors who conquer others always tout that the gods are on their side offering their victory over the oppressed as evidence. I offer the lie of Manifest Destiny as just one example. History (as well as the Civic religion) is written by the conquerors, not the conquered. It is within this context that Isaiah offers a people who are about to be oppressed, not to believe the Assyrian narrative that would justify their oppression, but to hold on tightly to the belief that God was actually "with us"—the oppressed—and deliverance would come. A modern day example would be those involved in the Black Lives Matter movement taking place in America as I write this. In times of longing for deep social change, it becomes imperative for those being oppressed to hold close in their heart the belief that God is standing in solidarity with them in their cause, not their oppressors.
This is what Immanuel means for an oppressed people within its original context. Even though we are victims of oppression, injustice, and violence, God is standing in solidarity with us, and the glory of liberation and what Dr. Martin Luther King called the "double victory" must not be lost sight of.
Read Isaiah's words just a few chapters later through the lens of a Liberator God who is standing in solidarity with the oppressed, Immanuel. I'll offer some brief commentary within brackets.
"A shoot shall come out from the stump of Jesse, and a branch shall grow out of his roots.
[This is a king that will arise from the bloodline of the kings of a conquered and oppressed people.]
The spirit of the LORD shall rest on him, the spirit of wisdom and understanding,  the spirit of counsel and might, the spirit of knowledge and the fear of the LORD. His delight shall be in the fear of the LORD.
[He will govern with justice and equity, in other words, as opposed to corruption, greed, and exploitative discrimination.]
 He shall not judge by what his eyes see, or decide by what his ears hear;
[He won't govern according to the spin doctors who work for the oppressors.]
but with justice he shall judge the poor, and decide with equity for the meek of the earth;
[It would be well to remember this passage as Jesus quotes from it in the Sermon on the Mount when he assures us that in the new world he had come to found, the "meek will inherit the earth."]
he shall strike the earth with the rod of his mouth, and with the breath of his lips he shall kill the wicked."
[At this stage of Israel's understanding, justice would come through killing Israel's enemies. Jesus would turn this methodology on its head by teaching enemy love expressed through a restorative justice even for Israel's oppressors. This is why many in Jesus' day were looking for a messiah that would lead them in militaristic violence against the Romans. Jesus came with the problematic teaching of loving your enemies, saying God's liberation from injustice, oppression, and violence was for the oppressors too. Jesus called the oppressed to see their oppressors as victims as well of a much larger systemic evil, in need also of being liberated from their participation. This is what makes Jesus' teaching on nonviolent resistance so powerful. Jesus' nonviolence has too often been coopted by oppressors, such as that which happened under King James VI in the King's Authorized 1611 King James Version where Jesus' words in Matthew 5.39 are grossly mistranslated as nonresistance. Too often Jesus' words have been hijacked by the privileged to the keep the disadvantaged in their place. Jesus wasn't teaching passive nonresistance. No, no! In Jesus' sermon on the mount, Jesus gives three examples of nonviolent RESISTANCE as a powerful means of awakening the conscience of one's oppressors calling upon them to abandon their participation in systemic injustice and to choose to stand in solidarity with those they once oppressed. It's what King referred to in his sermon delivered at the Dexter Avenue Baptist Church in Montgomery, Alabama, at Christmas, 1957. Martin Luther King wrote it while in jail for committing nonviolent civil disobedience during the Montgomery bus boycott:
"To our most bitter opponents we say: 'We shall match your capacity to inflict suffering by our capacity to endure suffering. We shall meet your physical force with soul force. Do to us what you will, and we shall continue to love you. We cannot in all good conscience obey your unjust laws because noncooperation with evil is as much a moral obligation as is cooperation with good. Throw us in jail, and we shall still love you. Bomb our homes and threaten our children, and we shall still love you. Send your hooded perpetrators of violence into our community at the midnight hour and beat us and leave us half dead, and we shall still love you. But be ye assured that we will wear you down by our capacity to suffer. One day we shall win freedom but not only for ourselves. We shall so appeal to your heart and conscience that we shall win you in the process and our victory will be a double victory.'"
Notice Isaiah's description, which envisions this world with no more oppressor/oppressed.]
Justice shall be the belt around his [this one who would come through Jesse's bloodline] waist, and faithfulness [to the covenant promises] the belt around his loins.
The wolf shall live with the lamb,
the leopard shall lie down with the kid,
the calf and the lion and the fatling together,
and a little child shall lead them.
The cow and the bear shall graze, their young shall lie down together;
and the lion shall eat straw like the ox.
The nursing child shall play over the hole of the asp,
and the weaned child shall put its hand on the adder's den.
They will not hurt or destroy on all my holy mountain; for the earth will be full of the knowledge of the LORD as the waters cover the sea. (Isaiah 11.1–9)
No more injustice, no more violence, no more oppression.
John the revelator takes this passage from Isaiah and turns it on its head as well.
From his mouth comes a sharp sword with which to strike down the nations, and he will shepherd them with a staff of iron (Revelation 19.15.; notice that the sword is a verbal one, and that the striking of the nations with those words results in the nations becoming the sheep of this shepherd).
We miss so much when we only read the Jesus narrative through the conventional, domesticated lens of a Christianity that has been (with the exception of its first three hundred years) coopted and used by the oppressors (the Constantinian shift) and stolen from the oppressed. The Jesus Narrative was originally good news to the oppressed and seen as a threat to those at the top of sociological, privileged pyramids, a threat that from the very beginning must be removed (Luke 19.47).
Let's take one more example from the Jesus narrative so we can contrast the two. We'll be looking at Luke's version of the Jesus story in Luke 12.
"Someone in the crowd said to him, 'Teacher, tell my brother to divide the family inheritance with me.' But he said to him, 'Friend, who set me to be a judge or arbitrator over you?' And he said to them, 'Take care! Be on your guard against all kinds of greed; for one's life does not consist in the abundance of possessions.' Then he told them a parable: 'The land of a rich man produced abundantly'" (Luke 12.13–16).
There are two ways of reading this story. One is through the lens of the oppressors. Let's look at this first.
Many in positions of privilege interpret this story in a way that presents a Jesus that refused to intervene in "temporal matters." "Jesus was about saving mankind's soul," they say. They misinterpret Jesus' kingdom to be "not of this world." And by this they mean to dualistically divide matters of systemic deliverance from the sins of injustice, oppression, and violence in the here and now from the work of "the gospel." Their focus is purely on personal, private salvation, which typically is concerned solely with post-mortem destinations. Nothing is to be changed in this life. Injustice and oppression are interpreted as part of God's purpose for this world. People aren't to be treated with equality. Inequity is God's way of developing character. Equity is not part of God's purpose for this world. God's focus is on saving your soul for heaven.
That's one way this passage is interpreted. Strange how it just so happens to leave the world of the oppressors unchanged. Jesus' revelation that the last shall be first and the first shall be last, in the here and now, is grossly missed.
The other interpretation of this story finds its source in looking through the lens of those who are oppressed. Jesus was not excusing himself from temporal matters. Far from it. His entire Sermon on the Mount is about the message that Jesus' kingdom, although from/of heaven, has arrived here on earth and is about to restructure, redistribute, and restore. Jesus didn't go around getting people to say a special prayer so they can go to heaven when they died. He sought to bring healing into people's lives today. The story we have before us is of two wealthy brothers with a large inheritance that is being fought over. Jesus says, "I've not come to be the advocate of the wealthy against others who are wealthy." He asks, "Who made me a judge between YOU?" i.e. an advocate for the rich. It's as if Jesus is using the contemporary phrase today, "First World Problem." Jesus had come as a liberator of the oppressed; he marked the return of the Advocate God to Israel. He, according to Isaiah, was to be an arbitrator. But Jesus was not to be an arbitrator for the rich between others who were rich. Jesus had come to be an arbitrator for the poor against the greed of the wealthy. Jesus came to be, not an arbitrator between those at the top of society's privilege pyramids, but an arbitrator for those at the bottom of those pyramids between those at the top, standing in solidarity with those at the bottom. This is why Jesus tells the brother a story about a wealthy man (like himself) who was seeking to only acquire more and more, adding to his already existing wealth, rather than taking care of those who were hungry, poor, blind, and naked. Jesus is not rejecting being an arbitrator in temporal affairs. Jesus came to turn our temporal affairs on their heads (see Acts 17.6). Jesus is rejecting being an advocate between the greedy privileged against other who are privileged, saying I've not come to be YOUR arbitrator. I've come to be the arbitrator for the oppressed. I've come as Immanuel to those who are being marginalized, disadvantaged, the needy, the impoverished, the downtrodden, the abused, maltreated, ill-treated, subjugated, tyrannized, repressed, and crushed. I've come to reveal a God who is standing in solidarity with these. I have come to give these the hope of Immanuel. I've come to give them the ability to say with all hope and confidence, "God" is "with us."
What is the Advent narrative saying to us?
Whether this week you are marching, holding a sign that says, "Black Lives Matter," whether you are being disfellowshipped this week from your spiritual community because of an orientation you did not choose and cannot change, whether you are continuously never taken seriously because you do not have the correct anatomical appendage, or you are facing an over-commercialized holiday season wondering how you are going to feed your children this Christmas much less give them the Christmas your heart longs to give them, too, you can gather around the manger and dare to believe that the babe who lies there really belongs to you. The baby lying there is Immanuel, the Liberator, the Advocate God, who has come to set the oppressed free, here, now. He is Immanuel, God with you.
HeartGroup Application
In James Cone's book, God of the Oppressed, James tells of how Jesus was "the subject of Black Theology because he is the content of the hopes and dreams of black people. He was chosen by our grandparents, who saw in his liberating presence that he had chosen them and thus became the foundation of their struggle for freedom. He was their Truth, enabling them to know that white definitions of black humanity were lies." James goes on to tell of traditions and practices among the slaves that, rooted in the Jesus story, kept them from losing themselves to the white dehumanization and degradation they were continually immersed in.
1. This week I want you to pick up the story of Jesus' birth found in both Matthew and Luke. I want you to sit with Jesus asking him to change your lens. In matters of gender, race, orientation, and economic injustice, I want you to, in whatever areas of your life that you may experience some level of privilege, try reading this story while placing yourself in the shoes of someone less privileged than yourself. Do your best to read the story from their vantage place.
2. Journal what Jesus shows you.
3. Share what you discover with your upcoming HeartGroup.
This Advent, may you come to know that in whatever way you are "seeking first" the justice of Jesus' new world, where things are "on earth" as they are "in heaven," may the liberating, advocating, solidarity standing "Immanuel" give you strength, courage, and hope.
Till the only world that remains, is a world where Christ's love reigns, may all those things out of harmony with love give way to a shoot of Jesse's healing, transformative "equity" and "justice."
The wolf will lay down with the lamb.
Immanuel, God with us.
I love each of you, see you next week.