BY HERB MONTGOMERY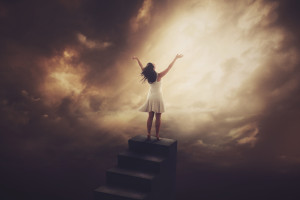 A priest happened to be going down the same road, and when he saw the man, he passed by on the other side. So too, a Levite, when he came to the place and saw him, passed by on the other side. (Luke 10.31-32, Emphasis added.)
The German philosopher and economist Karl Marx's statement, "Religion is an opiate of the people," Is often quoted. Does your flavor of Theism function as an opiate for you? Let me explain what this means.
One website estimates that 73% of theists, when faced with injustice in the world around them, do nothing. This is a shocking statistic on its face. And many of you may be part of the 27% it doesn't apply to. Nonetheless, 73% is an incredibly high ratio.
If this is true, why should it be? It could very well be that many kinds of theism include a belief in the apocalyptic and the afterlife. We talked a few weeks ago about apocalypticism and how beliefs about the afterlife often accompany pessimistic views of the present: people tend to believe that things simply are the way they are in the present and cannot be fixed until the next life. As a result, theists from several religions may look at injustice in this world as an unfixable reality that we must simply accept until God puts it right in the hereafter.
That is the philosophical background we discussed recently. Yet there is another possible reason for theists who do not intervene in injustice, and I'd like to address it this week.
A Personal Relationship With A God That Is Love
The deep disregard for injustice that I've witnessed among theists seems to be rooted in a drug-like attachment to a private relationship with a Divine being, and they believe this Being is the very essence of Love. How can something so good yield something so damaging?
If you find great value, meaning, and purpose in a relationship with a Divine being that fits this description of ultimate love, by all means, please continue to do so. And also please hear me out. There is another aspect to this that we must also hold in tension to avoid being spiritually deformed.
Have you ever noticed how a couple that is newly in love can be completely oblivious to the world around them? Hold this illustration in your mind as we continue.
"God Loves You"
I find it curious that the idea of God's love for us does not surface in three of the four, earliest canonical gospels that we have today. The gospel of John is loaded with this concept, but John's gospel was not written until the end of the first century or beginning of the second. That means that for most of the Jesus's movement's first century, followers focused on the principles of Matthew, Mark and Luke—the teaching that calls us to love rather than to bask in being loved.
In these three early Gospels, Jesus spends his time teaching us how to love God, how to love our neighbor, the marginalized, the "sinner," and how to love our enemies. There is not one example in these three gospels of Jesus sharing a teaching where the focal point of the teaching was trying to get us to embrace how much we are individually, privately loved by a Divine being.
It's also curious that in the book of Acts, which is the story of the early Jesus movement growing and proclaiming the gospel, the early Apostles preached the good news without once discussing love. Search the entire book of Acts; the word "Love" can't be found.
As New Testament historian N.T. Wright stated in the podcast Jesus and the Kingdom of God — Today and Tomorrow, "The good news is not a message about you, it's a message about Jesus. Now, of course, because it's a message about Jesus it is then a message about you. But if you say, 'The Gospel is — God loves you and has a wonderful plan for your life — this makes it incredibly me-centered. The gospel is 'Jesus Christ is Lord!' The crucified and risen Jesus is the Lord of the World. And under that great statement there is all the room for you to find new life in the present and in the future. There is all the room for you to find new work to do for the Kingdom, but that's the Gospel — the message about Jesus."
The message the early apostles proclaimed was the good news, and that good news was not the news that God loves you. Rather they proclaimed the message that the crucified Jesus was risen and is Lord* of this world.
Lastly, I find it curious that nowhere in the New Testament are we ever encouraged to or told how to have a private, personal relationship with God. The language of "personal relationship" that modern evangelicals are so familiar with simply isn't there.
The Sermon on the Mount may be the most famous summary of the teachings of Jesus, and even it never encourages us to embrace a God who loves you privately. Rather it's a list of things for the followers of Jesus to do, not to get to heaven, but to heal the hurt of the world around us. In these chapters, we find teachings about a God who loves THE WORLD. Our God loves the world and the people of the world, and therefore we are called to love them, too. (See Matthew 5.45-48.)
Yes, there are Christians that are so heavenly minded that they are no earthly good. And there's another extreme in the cult of the "private Jesus." We must guard against getting so lost in being loved in a private, internalized, individual love-fest with our own personal Divine being. The risk is of being so wrapped up in how much we feel God loves us personally that we become insulated against awareness of our culpability in the injustice, suffering, and oppression of this world and our responsibility to reduce it.
My own experience is some of the people who've given the loudest "amens" to my teachings on a God of love are also the very ones who've offered the loudest objections to my presentations on Jesus's followers being agents of healing, restoration, and social justice.
We must be careful that the message of a God who loves does not simply become a pacifying drug for those privileged in our social/economic/political pyramid, something that absolves them of conviction about our responsibility to act. The message of God's love must be more to us than something that helps the privileged—us!—to sleep better at night.
Yes, God is love, and, as Cornel West has said, "Justice is what love looks like in public."
Again, if you, have found great value, meaning, and purpose in having a relationship with a Divine being that to you is the very essence of love, by all means, please continue. But please don't allow yourself to get so lost in the Divine, Loving embrace that you forget about those around you who your God loves just as much as God loves you yet may not be in as beneficial a position as you are in the present social order. A God who is love, also loves them, and this should cause us to be keenly aware of those whose suffering make our "blessings" possible.
A suffering world cannot find us credible when we speak of a God who is love and yet "pass by on the other side" when it comes to systemic violence. It matters little whether someone is lost in the hope of an afterlife or entranced by their own private spiritual experience if they are not making a difference in the world around them. Both forms can be subtle denials of the way that our Jewish teacher, Jesus, taught us through his life.
The Way of Jesus (and the prophets)
Did Jesus spend personal, private time, alone with God? Absolutely! Here are a few examples.
Mark 1:35—Very early in the morning, while it was still dark, Jesus got up, left the house and went off to a solitary place, where he prayed.
Mark 6:46—After leaving them, he went up on a mountainside to pray.
Matthew 14:23—After he had dismissed them, he went up on a mountainside by himself to pray.
Luke 5:16—But Jesus often withdrew to lonely places and prayed.
Luke 6:12—One of those days Jesus went out to a mountainside to pray, and spent the night praying to God.
Matthew 26:39—Going a little farther, he fell with his face to the ground and prayed . . .
Notice that Jesus' time in private prayer empowered him to return to the public scene rather than retreat from it: he engaged the world as an agent of healing and did not perpetually isolate himself. Jesus, like the prophets before him, engaged in a contemplative practice that moved him to action, not withdrawal.
"The prophets have dirty hands (and mouths too sometimes), because you'll find them wading without apology through the mess of life. Their target audience begins with the church and its religious leaders but extends to nations and heads of state and to corporations with their economic power brokers. They have unabashed social agendas and are not afraid of being perceived as political. Their concern is for the oppressed, the poor, the widow, the orphan, and the enslaved. The mature prophets call for both personal righteousness and social justice. They retreat inward in contemplation then explode onto the public scene as spokespersons for God's heart and as advocates for the downtrodden." —Brad Jersak, Can You Hear Me
Speak up and judge fairly;
defend the rights of the poor and needy. (Proverbs 31.9)
In our society, today, the "rights of the poor and needy" include those of all races, cultures, countries, genders, orientations, sexes, education levels, not merely economic status. And this makes it even more important that theists, especially the followers of Jesus, learn how to be agents of healing. Just as our Jesus was.
HeartGroup Application
This week I'm going to let you into something very private for me: my own personal contemplative practice.
I spend a set time every day contemplating the values and teachings taught in the Jesus story. Even if you only have 15 minutes, you'd be surprised what a difference 15 minutes can actually make.
My weekly schedule is:
Sunday: Restoration
Monday: Forgiveness
Tuesday: Reconciliation
Wednesday: Golden Rule / Interconnectedness
Thursday: Nonviolence
Friday: Justice
Saturday: Compassion
This list changes regularly, but this is what it is right now. You can make your own list of values from those in the Jesus story and dedicate some time each day to contemplate them.
Try this yourself. Either create your own list or use mine for now. Set a timer for 15 minutes, and contemplate what each value means; what it looks like in daily life; what its application may be for your own journey; how you can embody this value. Just spend 15 minutes meditating and contemplating each value, daily, for a week.
Journal what insights, changes, challenges, motivations, or benefits this exercise produces in you.
Share your experience with your HeartGroup.
Till the only world that remains, is a world where Love reigns,
I love each of you, dearly.
I'll see you next week.
* We hold the term Lord in tension with the non-kyriarchical teachings of Jesus. (Mark 9.33-35; Mark 10.42-44; John 15:15; John 13.12-15)