---
BY HERB MONTGOMERY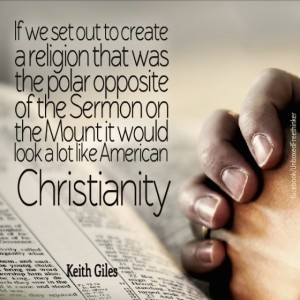 "Why do you call me, 'Lord, Lord,' and do not do as I teach? As for everyone who comes to me and hears my words and puts them into practice, I will show you what they are like. They are like a man building a house, who dug down deep and laid the foundation on rock. When a flood came, the torrent struck that house but could not shake it, because it was well built." (Luke 6:46-49)   
I'm just returning from Phoenix, Arizona, where I conducted a five-day religious re-education series for adults on the revolutionary teachings of Jesus.
A sampling of the teachings we looked at were:
Self-affirming, enemy-transforming nonviolence for the oppressed (Matthew 5.39-40)
A preferential option for the poor (Matthew 5.42; Luke 4.18-19; 6.30; 11.41)
Enemy love (Matthew 5.44; Luke 6.27-28)
Forgiveness (Mark 11.25; Matthew 6.14-15; Luke 6.37)
Restorative/transformative justice (Matthew 23.23; Luke 11.42; 18.7)
Redistribution of wealth (Mark 10.21; Matthew 6.19-34; Luke 12.33-34)
The Golden Rule (Matthew 7.12)
The modeling of a heterogenous shared table (Mark 2.16; Luke 14.12-14)
(You can listen to this series here.)
What I've noticed more and more over the last couple years as I've spoken about the Jesus of Matthew, Mark, and Luke is that the teachings he taught are somehow new thoughts and ideas for many of the Christians I meet. At least where I've traveled, Western, American, mostly white* Christians are unfamiliar with Jesus's actual teachings, and at the same time have very strong ideas about what it means for them to be "Christian." 
This phenomenon has a long history in the United States, at least as far back as the 1700s. A significant voice for 18th Century American patriotism was Thomas Paine's. Paine was one of the founding fathers of the American revolution and also among the first to speak out against slavery and in favor of abolition. But what landed Paine in the most trouble was his book, The Age of Reason. In this book, Paine critiques institutional religion as an oppressive force and also questions the supernatural claims contemporary Christianity made about Jesus.
These supernatural claims have historically included:
The divinity of Jesus
The virgin birth
The miracles of Jesus
The substitutionary death of Jesus to satisfy the wrath of God
The resurrection
What struck me as odd as I wrote the above list is that many of my readers have been conditioned to place greater importance on mentally assenting to this list than on endeavoring to follow the first list of teachings I shared. We have learned to call the second list "faith" and the first list "behaviorism." The Jesus of the gospels taught that first list himself. And mentally assenting to any item on the second list doesn't necessarily change the world around us for the better whereas endeavoring to practice even one item on the list of Jesus's teachings transforms each practitioner into an agent of healing in this world.
Historically, Freethinkers and secularists like Thomas Paine have agreed with and sought to apply the teachings, values, and ethics found in the Jesus story. They've seen in those teachings deep intrinsic worth, especially the Golden Rule, which could change our societies if we practiced it.
My concern this week is this: more and more, I see the harm we're doing as Christians in the world today rather than being the sources of healing our Jesus story calls us to be.
If I had to choose between 1) someone who was highly certain about the supernatural claims of traditional Christianity yet was unfamiliar with or simply disregarded the actually ethical teachings of the Jesus story and 2) someone who questioned or even doubted those supernatural claims yet were dedicated to learning more deeply how to apply and follow Jesus's  ethical teachings, I would choose the latter and consider them to be a Jesus follower. Again, it is the first list that the Jesus of the gospels taught himself.
We have enough highly certain humans already, in our Christian religion and beyond, and in so many ways the dogmatically certain who will not do as Jesus taught continue to make the world an unsafe and less compassionate place for many. This group is not in a moral position to critique the morality of those they are harming, though they often do. People who may doubt the church's explanations and yet do as Jesus taught can at least assist with the moral development of humanity as they sit around the table, equals with us, sharing and listening to the stories of those whose life experience differs vastly from their own.
I expect to get a few emails this week from those who feel I have underestimated the traditional supernatural claims of Christianity. What I'm hoping for, nevertheless, is that a few of us will begin to ask why we feel more passionate about defending those claims while we experience comparatively little concern that so many Christians disregard the practical ethics that Jesus taught during his lifetime.  To be fair, many Christians, today, ARE waking up to the imbalance we are looking at, this week.  I'm pushing for more than acknowledgment, more than reformation, what is needed is a revolution.  Christianity is in desperate need of a revolutionary fusion that puts us back in touch with its original Revolutionary—Jesus.
HeartGroup Application
This week, pick one of the values, ethics, or topics from our first list above and do some research on it. As you study it, contemplate the ways in which you could experiment with the teaching in your own life.
Write down what you discover.
Share and discuss your findings within your HeartGroup.
I'll close this week with a book recommendation. If you would like to understand the long history mentioned in this week's eSight, you can find a great overview in Susan Jacoby's Freethinkers: A History of American Secularism (Holt Paperbacks; January 7, 2005) 
I believe it's time to reassess what it means to follow the Jesus of the synoptic gospels. Marcus Borg explains:
"Was Jesus a social revolutionary? In the ordinary sense in which we use the phrase 'social revolutionary,' yes. Like the Jewish prophets before him, he was passionate about economic justice and peace, and advocated active non-violent resistance to the domination system of his time. He was a voice of peasant social protest against the economic inequity and violence of the imperial domination system, mediated in the Jewish homeland by client rulers of the Roman Empire – in Galilee, Herod Antipas, and in Judea and Jerusalem, the temple authorities. He spoke of God's kingdom on earth, as the Lord's Prayer puts it: Your kingdom come on earth, as it already is in heaven. Heaven is not the problem – earth is.
But he was not a secular social revolutionary. He was God's revolutionary. And God's passion – what God is passionate about, according to Jesus – is for an earth in which swords are beaten into plowshares, in which nations do not make war against nations anymore, in which every family shall live under their own vine and fig tree (not just subsistence, but more than subsistence), and no one shall make them afraid (Micah 4.1-4, with close parallel in Isaiah 2.1-4). This was the passion of Jesus, and for Christians, Jesus is the revelation of God's passion.
Violent revolution? No. Non-violent revolution? Yes.
Of course, Jesus and the Bible are also personal as well as political. Of course. But we have not often seen the political meaning of Jesus and the Bible. It is there – and once one sees it, it is so obvious. Not to see it is the product of habituated patterns of thought, or of willful blindness.
Jesus was (and is) not about endorsing the rule of domination systems that privilege the wealthy and powerful. Jesus was (and is) about God's passion for a very different kind of world." — God's Non-Violent Revolutionary by Marcus J. Borg
Till the only world that remains, is a world where Love reigns.
I love each of you dearly.
I'll see you next week.
*This is not true of the non-white congregations I have come in contact with, though I am told of existing non-white congregations that are still very colonial in their thinking, as well.