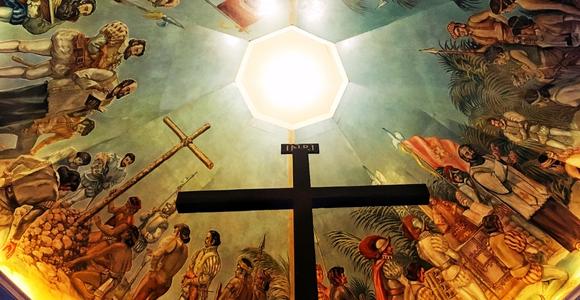 Herb Montgomery | November 18, 2022
To listen to this week's eSight as a podcast episode click here.
---
"It's this Jesus who, for Christians, is the decisive revelation of the Divine, the decisive example of our faith, and the decisive model for how we live our lives."
---
Our reading this week is from the gospel of Luke:
When they came to the place called the Skull, they crucified him there, along with the rebels—one on his right, the other on his left. Jesus said, "Father, forgive them, for they do not know what they are doing." And they divided up his clothes by casting lots. The people stood watching, and the rulers even sneered at him. They said, "He saved others; let him save himself if he is God's Messiah, the Chosen One." The soldiers also came up and mocked him. They offered him wine vinegar and said, "If you are the king of the Jews, save yourself." There was a written notice above him, which read: THIS IS THE KING OF THE JEWS. One of the rebels who hung there hurled insults at him: "Aren't you the Messiah? Save yourself and us!" But the other rebel rebuked him. "Don't you fear God," he said, "since you are under the same sentence? We are punished equitably, for we are getting what is due our deeds. But this man has done nothing wrong." Then he said, "Jesus, remember me when you come into your kingdom." Jesus answered him, "Truly I tell you today, you will be with me in paradise." (Luke 23:33-43)
We are coming to the end of our time in the gospel of Luke in the lectionary.
For me, this week's passage feels more appropriate for Easter season than for the seasons of Advent and Christmas, but there's so much in the passage that we could contemplate this week: Jesus' generous spirit of forgiveness toward those who participated in his crucifixion.
The fact that crucifixion was used as a political tool of the state to prevent uprisings against the empire.
The actions of the soldiers.
The watchfulness of the people compared to the sneering of those in power.
The conversation between the two rebels, and Jesus' response.
There is a lot here.
First, I want to head the warnings of womanist Christian scholars such as Delores Williams, who admonishes us to not forget the cross but not to glorify it either (See Sisters in the Wilderness: The Challenge of Womanist God-Talk). The resurrection story event affirms how wrong Jesus' crucifixion was. It was an unjust act of state violence, an act God responds to by undoing it. In my opinion, we miss the story's point when we interpret the cross as something positive, good, salvific, or redemptive. The cross is the historical evil toward a crucified class of people. Jesus is part of that class, and God overturns and overcomes their position through Jesus' resurrection.
In this context I'm reminded of Rev. Dr. Kelly Brown Douglass, who reminds us in her book Stand Your Ground: Black Bodies and the Justice of God that the crucifixion of Jesus solidifies Jesus' solidarity with the crucified class of his day. Through that solidarity, and coupled with the reversing of the crucifixion, the story speaks to the restoration "to life those whose bodies are the particular targets of the world's violence to signal triumph over crucifying violence and death itself" (p. 185).
What does it mean for us today to be followers of this Jesus? How might we stand in solidarity with all who are oppressed and daily suffer what Douglass labels "crucifying realities"? What does it mean for Jesus followers who desire to be death-reversing, life-giving presences in the spaces we inhabit?
Might those in power or those seeking to be in power sneer at us, as they sneered at Jesus? Will we encounter ignorance in those who simply don't understand what they are doing? What does a spirit of forgiveness look like in those moments?
Will there be times when we are associated with others who are working for liberation with different methods we may not embrace but who share our end goals? Might that association leave us targets just as much as them?
Luke's version of this story give me pause as we move quickly into the end of another year of working toward justice, liberation, and a world of love, compassion and safety for those the present iteration of our society marginalizes and makes vulnerable.
At the time of writing this, I'm still looking ahead to the elections happening in the US. By the time you read or hear this, however, the election will have passed and our table for the next two years will be set. Will these coming years be more life-giving or more death-dealing? That's what's on my mind this week as we contemplate the Jesus of the gospels, a man characterized as a Jewish prophet of the poor from the margins of Galilee who ends up on a Roman cross. It's this Jesus who, for Christians, is the decisive revelation of the Divine, the decisive example of our faith, and the decisive model for how we live our lives. And it's this Jesus who ended up on a cross for his faith and actions living out a vision of a just future for all of God's children, especially those who were being pushed to the margins and harmed in his own time and society.
Fortunately the story of Jesus doesn't end with a Roman cross. In the end, everything accomplished through the crucifixion of Jesus was undone through the Divine reversal of the resurrection before the end of that weekend. So the story we read this week is ultimately a story of hope, a story of ups and downs, victories and defeats, and defeats undone.
What will our next week bring? Will the elections yield a victory for justice, life-giving, inclusivity, love, and compassion, or will we be left to swim against even stronger currents for the next two years? Will this election be a crucifixion or a resurrection for the kind of world we want?
Regardless of the election results, we'll have work to do. The results will make our work either easier or harder, but we'll need to do it nonetheless. This week, the crucifixion and resurrection of Jesus point us to the themes and events of his life and how God doesn't end the story at his death. Crosses are not the final verdict. Life overcomes even death, even death that comes through state violence.
I'm holding onto that truth this week: Life can overcome death. Love can overcome hate. Justice and compassion can overcome wrongs even when those wrongs have the backing of the propertied, powerful, and privileged.
Making sense out of death is something that people in privileged classes can wrestle with because it doesn't make sense to them from their social location. Bad things are not supposed to happen to them! And those in unprivileged social locations generally don't waste time trying to make sense out of wrongs or looking for some salvific, redemptive purpose in those events. They simply see them as wrong, and they may look for hope's response to the wrongs they've endured. Our story this week speaks to that hope. The God of our story is with those who are crucified in our societies. This is a God of the marginalized and disenfranchised. This is a God who acts in solidarity with crucified classes and communities. And this story tells us that these crucifixions don't have the last word.
Resurrection might look different in every situation, and some resurrections simply take time. Don't give up.
Whatever happens over the next two years, may we keep our eyes on the possibility of a just future, a compassionate iteration of our world, one where our communities become a safe-space along with all our differences and there is room for each of us.
Whether there be crosses or not, may our hope be in life and in life giving and a way of life that overcomes death-dealing. We get to decide how we show up in our communities. May we be the kind of people whose actions don't betray the Jesus of our most sacred stories. May we be sources of healing, inclusion, good news for the oppressed, love and life, just like the Jesus of our stories and our faith.
May we live lives that hold sacred the dignity of each person's humanity—not just those who are like ourselves—but every person celebrating the rich diversity of our shared humanity.
This is the kind of person I want to be over the next two years. How about you?
HeartGroup Application
1. Share something that spoke to you from this week's eSight/Podcast episode with your HeartGroup.
2. Again, it's this Jesus who, for Christians, is the decisive revelation of the Divine, the decisive example of our faith, and the decisive model for how we live our lives. Discuss with your HeartGroup what this means to you. 
3. What can you do this week, big or small, to continue setting in motion the work of shaping our world into a safe, compassionate, just home for everyone?
Thanks for checking in with us, today.
You can find Renewed Heart Ministries on Twitter, Facebook and Instagram. If you haven't done so already, please follow us on your chosen social media platforms for our daily posts. Also, if you enjoy listening to the Jesus for Everyone podcast, please like and subscribe to the JFE podcast through the podcast platform you use and consider taking some time to give us a review. This helps others find our podcast as well.
And if you'd like to reach out to us through email, you can reach us at info@renewedheartministries.com.
Right where you are, keep living in love, choosing compassion, taking action, and working toward justice.
I love each of you dearly,
I'll see you next week
---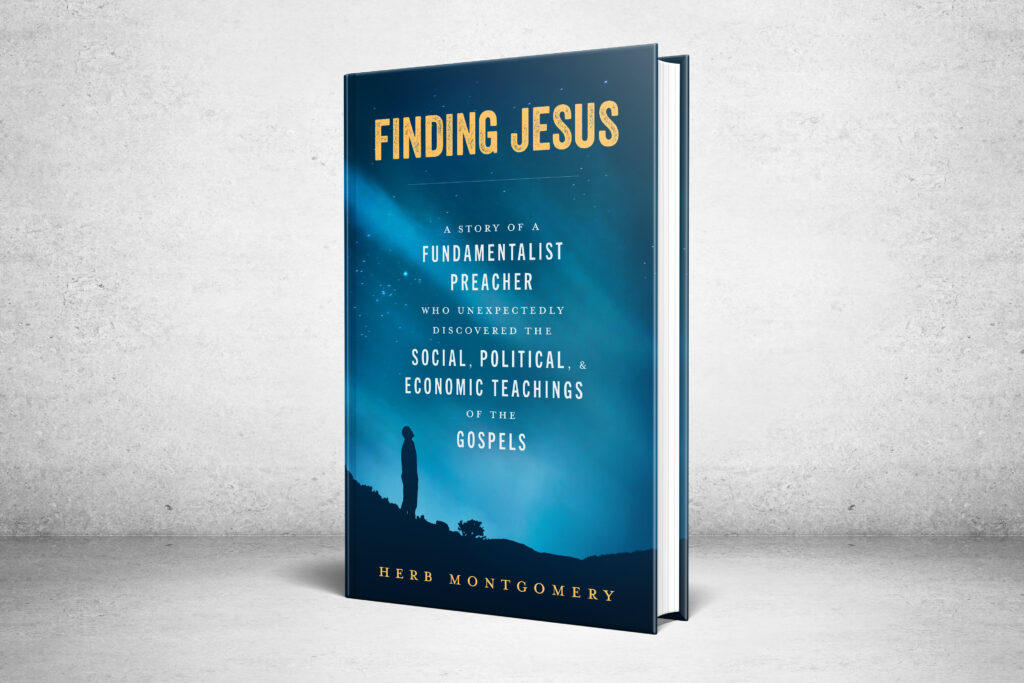 Coming Soon!
Available December 1, 2022
It's finally here!  Herb's new book will be available at renewedheartministries.com December 1st.
Here is just a taste of what people are saying:
"Herb has spent the last decade reading scripture closely. He also reads the world around us, thinks carefully with theologians and sociologists, and wonders how the most meaningful stories of his faith can inspire us to live with more heart, attention, and care for others in our time. For those who've ever felt alone in the process of applying the wisdom of Jesus to the world in which we live, Herb offers signposts for the journey and the reminder that this is not a journey we take alone. Read Finding Jesus with others, and be transformed together." Dr. Keisha Mckenzie, Auburn University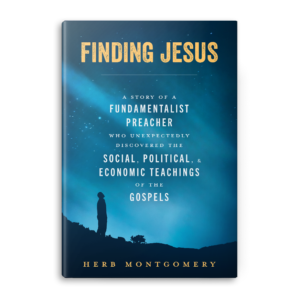 "In Finding Jesus, Herb Montgomery unleashes the revolutionary Jesus and his kin-dom manifesto from the shackles of the domesticated religion of empire.  Within these pages we discover that rather than being a fire insurance policy to keep good boys and girls out of hell, Jesus often becomes the fiery enemy of good boys and girls who refuse to bring economic justice to the poor, quality healthcare to the underserved, and equal employment to people of color or same-sex orientation.  Because what the biblical narratives of Jesus reveal is that any future human society—heavenly or otherwise—will only be as  good as the one that we're making right here and now. There is no future tranquil city with streets of gold when there is suffering on the asphalt right outside our front door today.  Finding Jesus invites us to pray 'thy kingdom come, thy will be done on earth as it is in heaven' on our feet as we follow our this liberator into the magnificent struggle of bringing the love and justice of God to all—right here, right now."—Todd Leonard, pastor of Glendale City Church, Glendale CA.
"Herb Montgomery's teachings have been deeply influential to me. This book shares the story of how he came to view the teachings of Jesus through the lens of nonviolence, liberation for all, and a call to a shared table. It's an important read, especially for those of us who come from backgrounds where the myth of redemptive violence and individual (rather than collective) salvation was the focus." – Daneen Akers, author of Holy Troublemakers & Unconventional Saints and co-director/producer of Seventh-Gay Adventists: A Film about Faith, Identity & Belonging
"So often Christians think about Jesus through the lens of Paul's theology and don't focus on the actual person and teachings of Jesus. This book is different. Here you find a challenging present-day application of Jesus' teachings about the Kingdom of God and the Gospel. Rediscover why this Rabbi incited fear in the hearts of religious and political leaders two millennia ago. Herb's book calls forth a moral vision based on the principles of Jesus' vision of liberation. Finding Jesus helps us see that these teachings are just as disruptive today as they were when Jesus first articulated them." Alicia Johnston, author of The Bible & LGBTQ Adventists.
"Herb Montgomery is a pastor for pastors, a teacher for teachers and a scholar for scholars. Part memoir and part theological reflection, Finding Jesus is a helpful and hope-filled guide to a deeper understanding of who Jesus is and who he can be. Herb's tone is accessible and welcoming, while also challenging and fresh. This book is helpful for anyone who wants a new and fresh perspective on following Jesus."— Traci Smith, author of Faithful Families
Available December 1 at renewedheartministries.com
---
Begin each day being inspired toward love, compassion, action, and justice.
Go to renewedheartministries.com and click "sign up."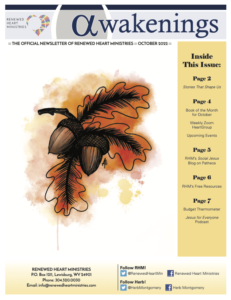 Free Sign-Up at:
https://renewedheartministries.com/Contact-forms?form=EmailSignUp
or Follow us on Facebook, Twitter and Instagram.