by Herb Montgomery | November 16, 2018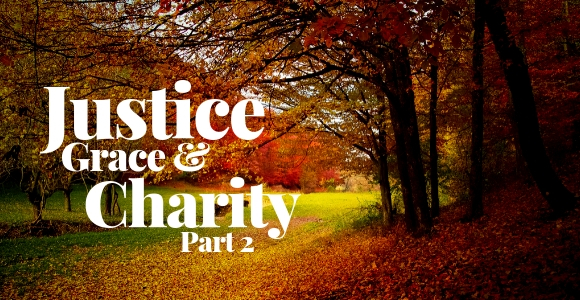 ---
"While we work toward a better world we must also be about mitigating the damage being done in this one. But do not think for a moment that if we have only offered charity to those this world makes hungry, poor, mournful, or last, we are done with our job of following Jesus. Jesus helped those who were suffering before him, yes. He also rode his donkey into the Temple, the symbolic heart of the Temple state to which he belonged, and disruptively overturned tables to protest the Temple's economic exploitation of the poor. Christians today excel at charity. We are not so good at justice."
---
"But give that which is within as charity, and then all things are clean for you." (Luke 11:41)
My family and I were visiting the Atlantic coast for Crystal's birthday. Though West Virginia is beautiful, Crystal's first love is the ocean. We had gone out for a birthday dinner and were walking home with almost a whole pizza in a pizza box. My daughter told us that we didn't need to keep the pizza and suggested we find someone on the street to share it with. She was speaking my language. While the rest of the family went back to the hotel, my daughter and I began walking down the strip to find someone to share some pizza with.
We met a wonderfully kind homeless man named Jeff who loved pizza, and spent some time getting to know him, hearing his story. Then we parted ways and headed back to where we were staying.
On our walk back to the hotel, my daughter asked, "Papa? Why do we have homeless people?" I explained that a very small amount of people choose to revolt against capitalism and conventions about how they should live, but the majority of homelessness is the result of people being on the losing side of capitalism. We then had a long talk about the economy, life, and the Parker Brother's game Monopoly, and she rightly said, "We don't need more pizza, we need a different game!"
As we walked, we discussed the difference between charity and justice. Charity does harm mitigation right now, but we must also be engaged with movements working for a world where charity is no longer needed. We talked about how charity can actually empower systemic injustice, although it's still needed until something more just dismantles and replaces those systems. I shared with her Gene Robinson's analogy of people drowning in a river: charity pulls people who are drowning out of the river, and is vital. Yet at some point someone has to walk upstream and ask who's throwing all these people into the river to begin with. And I would add to the analogy that once we diagnose who it is, stop them.
We eventually arrived back at our hotel and I completely forgot about our talk. But a few months later, my daughter asked if we could drive about 6 hours east to Baltimore to stand alongside with those protesting the murder of Freddie Gray. During our weekend in Baltimore, we stood on the lawn outside of Baltimore City Hall. A woman came over to where we were standing, sizing up my daughter and I. My daughter was wearing a black t-shirt with white letters that said, "Black. Lives. Matter." and she carried a sign that said the same. As we were two of the very few White people present, the woman addressed my daughter and very sweetly asked, "Young lady, what are you doing here?"
My daughter looked at me and then back at her. She responded, "Ms., we're from West Virginia. We wanted to come stand with you today. This isn't charity. This is about justice."
In Luke's gospel, Jesus tells his listening audience:
"Sell your possessions and give to charity; make yourselves money belts which do not wear out, an unfailing treasure in heaven, where no thief comes near nor moth destroys." (Luke 12:33, Revised English Bible)
In this verse, the Revised English Bible (REB) uses the phrase give to charity. The Greek phrase behind this text is didomi eleemosunen. It can mean giving alms, showing pity, having compassion, or beneficence to the poor.
Luke's gospel describes Jesus talking to a religious leader who prioritized ritual or religious purity more than compassion toward the vulnerable and marginalized:
"But now as for what is inside you—be generous to the poor, and everything will be clean for you." (Luke 11:41)
Charity was a core component of Jesus' teaching. In the language of the Gospel authors, the Greek root of charity was the word we translate today into mercy. Jesus's vision for a new world was one where the merciful are not only prioritized but also recipients of the merciful world they had shaped by their own mercy.
"Blessed are the merciful, for they will be shown mercy." (Matthew 5:7)
In Matthew's gospel and in a context where charity was used to further privilege, benefit the givers of charity, and possibly marginalize recipients of charity further, Jesus gave this instruction:
"So when you give to the needy, do not announce it with trumpets, as the hypocrites do in the synagogues and on the streets, to be honored by others. Truly I tell you, they have received their reward in full. But when you give to the needy, do not let your left hand know what your right hand is doing, so that your giving may be in secret. Then your Father, who sees what is done in secret, will reward you." (Matthew 6:2)
The kind of mercy or charity Jesus taught was one where the recipients of the charity weren't further marginalized or "sacrificed." It was to steer clear of victim blaming and not condemn the poor. In a world where poverty was not the result of chance but rather a system that created few wealthy winners at the expense of the masses, Jesus said,
"If you had known what these words mean, 'I desire mercy, not sacrifice,' you would not have condemned the innocent." (Matthew 12:7)
All of this leads me also to critique charity. Certainly there will always be a need for charity that lends a hand to those who are victims of calamity. But what about charity that is needed because of a system that places people in a position of need? Can we work toward a world where this kind of charity is no longer needed because we live in a world of distributive justice, one where no one has too much while others don't have enough?
Rebecca Ann Parker's fantastic book Saving Paradise sheds light on how Rome included charity in its system of oppression:
"To stave off riots and resistance, Roman officials distributed wheat imported from Egypt, North Africa, and Asia throughout the empire. Shipments from the fertile Nile delta were so crucial to Rome that protection of them from piracy was a major function of its navy—the Mediterranean was commonly referred to as the "Roman Lake." In the miracle of the bread and fish, large crowds flock to Jesus, hungry in spirit and body, and they depart filled. His act of feeding offered compassion for the needy, encouraged generosity for the good of all, even among those with little, and affirmed life abundant for everyone, regardless of status or need. This value system undermined the paternalism of Rome, which was built on an elite and powerful few having so much that they might scatter their largess, distributing 20 percent of their grain as a dole to the vast masses. The poor and powerless were expected to be grateful to the empire for acts of charity that maintained its domination. Jesus, on the other hand, belonged to the peasant class and working poor, and his relentless judgments against the rich and powerful revealed how injustice betrayed God's desire for all to have abundant life. He challenged this paternalistic system by offering food blessed by heaven and not by Rome." (pp. 32-33)
Again, if someone needs help, by all means we should help them. But with our other hand we should be working on a world where economic domination systems have been dismantled. We can work toward a world characterized by an equity that minimizes the need for so much charity. As Marcus Borg used to say, and as my daughter understood, "The prophets didn't call for charity. They called for justice."
"Moses and Amos are not asking the kings to up their charitable giving, they are asking that their contemporary domination system give way to a more just and less violent world." (Marcus Borg; see Social Justice in the Book of Amos)
Yes, we are called to be good Samaritans to those who have experienced catastrophe, yet even here we must do double work. Dr. Martin Luther King wrote in his final book:
"We are called to play the good Samaritan on life's roadside; but that will be only an initial act. One day the whole Jericho road must be transformed so that men and women will not be beaten and robbed as they make their journey through life. True compassion is more than flinging a coin to a beggar; it understands that an edifice that produces beggars needs restructuring." (Where do we go from here: Chaos or Community? pp. 187-188)
This month at RHM, our annual reading course book is Dorothee Soëlle's Theology for Skeptics. In this book she states unequivocally:
"Comfort [charity] and justice are not split apart in the Bible such that the church should ease difficult fate for individual persons with the newest psychotherapeutic methods and leave justice to the leading industrial nations. God does not come with cheap consolation, like a comforting lollipop from heaven. God does not console in such a way that we get something shoved into our mouths to quiet us down." (Kindle Locations 1166-1168)
Here, Soëlle is directly speaking to the kind of charity that merely pacifies the exploited, as the Roman Empire once did. In this context we must take to heart Gustavo Gutierrez's wise words:
"But the poor person does not exist as an inescapable fact of destiny. His or her existence is not politically neutral, and it is not ethically innocent. The poor are a by-product of the system in which we live and for which we are responsible. They are marginalized by our social and cultural world. They are the oppressed, exploited proletariat, robbed of the fruit of their labor and despoiled of their humanity. Hence the poverty of the poor is not a call to generous relief action, but a demand that we go and build a different social order." (Gustavo Gutierrez, Power of the Poor In History, p. 44-45)
As we said last week, we need a justice that is distributive, a grace that manifests itself in liberation for the oppressed, and a charity that doesn't perpetuate economic systems of exploitation and marginalization, making many poor while making many rich beyond their wildest possible use of funds.
I don't want to be misunderstood this week. If someone needs help, by all means available, help them! While we work toward a better world we must also be about mitigating the damage being done in this one. But do not think for a moment that if we have only offered charity to those this world makes hungry, poor, mournful, or last (see Luke 6:20-23 and Matthew 20:16) we are done with our job of following Jesus. Jesus helped those who were suffering before him, yes. He also rode his donkey into the Temple, the symbolic heart of the Temple state to which he belonged, and disruptively overturned tables to protest the Temple's economic exploitation of the poor. Christians today excel at charity. We are not so good at justice.
Again, if someone is drowning, pull them out of the river. Let's also walk upstream and do something about those who are throwing people in the river to begin with. Let's not blame those who are drowning for someone else throwing them in. Let's work toward a world of distributive justice and, as we do, let's also engage Jesus' other teachings on mutual aid, resource sharing, and taking responsibility for each other's survival and thriving.
People matter.
Another world is possible.
"But give that which is within as charity, and then all things are clean for you." (Luke 11:41)
HeartGroup Application
This week, share together some more of the differences you see between justice and charity.

List some of the things your group participates in that could be categorized as either charity or justice.
Are you focusing more on charity? Are you also engaging the activities that lead to systemic justice? Do you need to be stronger in one area, or maybe both?
Name some of the things you'd like to affirm in what you are already doing and list some things you'd like to do more of.

This holiday season, pick one from this list and, together, do it.
Wherever you are this week, thanks for checking in with us. Keep living in love, compassion, action, charity, and justice.
I love each of you dearly.
I'll see you next week.